Internet Modeler : New Releases : Book Reviews
RSS News Feed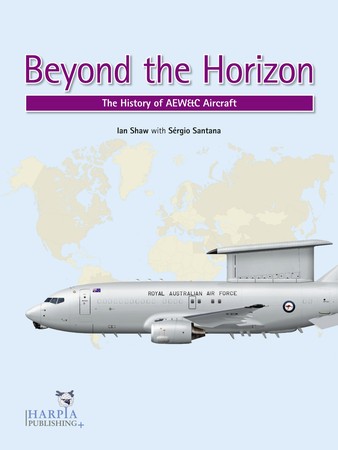 Beyond the Horizon: The History of AEW&C Aircraft
Authors: Ian Shaw with Sérgio Santana
Publisher: Harpia Publishing
ISBN: 978-0-9854554-3-9
Binding: Softcover
Pages: 256
Radar technology changed aerial warfare with its ability to detect incoming aircraft from a distance. To increase that advance notice distance, it was not long that the idea of putting early warning radar in aircraft, where they would have a much longer range than a ground-based antenna. This new book from Harpia Publishing examines these airborne early warning aircraft, from their early days at the end of World War Two, to their current status around the world. The book covers aircraft from all nations, including Britain, the United States, Russia, and China.
As the evolution of aerial radar technology is continuous, the book follows that chronologically, with several chapters keyed to specific events that shaped AEW aircraft. The first one covers the original piston-engined aircraft and the transition into jets, from 1943 to 1963. This is the longest era covered in the chapters, as the following ones cover 1964-1968, 1969-1980, 1980-1990, 1991-2001, and 2001 to today. Each era covers the technology, the aircraft, and their operations, showing how each changed over time to face new threats. The text makes for a fascinating read, while the photos show the varied colors and markings worn by these early detection aircraft. Adding to the wealth of information presented, the book also includes several maps showing how these aircraft operated.
In addition to the very detailed history of AEW&C aircraft, the book also features a thorough appendix with 26 different aircraft covered. Each aircraft gets an overview history, with the aircraft illustrated by a color profile illustration. These include helicopters such as the Agusta Westland AW 101 Mk 112, Changhe Z-18Y Black Bat, Kamov Ka 31, and Sea King (both Westland and Sikorsky variants) and piston-engined aircraft such as the Boeing PB-1W, Douglas AD-3W/4W/5W Skyraider, Grumman E-1 Tracer, Grumman TBM-3W Avenger, Lockheed Neptune AEW Mk 1, Lockheed WV & EC-121 Warning Star, and Vickers Wellington.
On the turbine side, there is the Avro Shackleton AEW Mk 2, Fairey Gannet AEW Mk 3, Grumman E-2 Hawkeye, Lockheed P-3 AEW, Saab 340 & Saab 2000 AEW&C, Shaanxi KJ-200, ZDK-03, & Y-8J, and Tupolev Tu-126. Finally, the jet AEW&C aircraft covered include the Beriev A-50, Baghdad/Adnan, Xi'an KJ-2000, Boeing 737 AEW&C, Boeing E-3 Sentry, Boeing E-767, Embraer 145 AEW&C, Gulfstream 550 CAEW, and IAI Condór.
This is a superb reference on AEW&C aircraft, telling a story that has long needed telling. My thanks to Casemate Publishers for the review copy.