Internet Modeler : New Releases : Book Reviews
RSS News Feed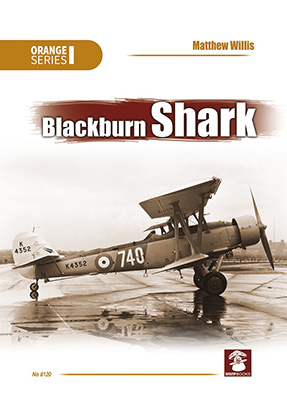 Blackburn Shark
Orange Series
Author: Matthew Willis
Publisher: MMP Books
ISBN: 978-83-65958-31-0
Binding: Softcover
Pages: 104
A contemporary of the Fairey Swordfish, the Blackburn Shark was a torpedo and reconnaissance biplane that saw service in the late 1930s. While the Swordfish went on to wartime exploits during the Second World War, though, the Blackburn Shark was relegated to the bin of obscurity. This new book in MMP's Orange Series shines a light on the Blackburn Shark, making this the first time this aircraft has been covered to this level of detail.
The book begins with the development of the Shark, starting with its origins with the B-3 biplane. Designed to a specification in 1930 for a torpedo bomber, the B-3 evolved along with the government specification to create the B-6, which featured 'warren truss' strut bracing as a means to significantly reduce rigging wires. This B-6, powered by the Armstrong-Siddeley Tiger engine, is what ultimately became the Shark. It was that Tiger engine that resulted in most of the problems with the Shark, though. Aside from the engine, the airframe itself was remarkably docile in flight, with excellent handling characteristics. The engine, though, proved problematic throughout its life, and undoubtedly helped keep it in the shadow of the Fairey Swordfish.
Despite those issues, the Blackburn Shark did enter fleet service in the mid-1930s, and the type also saw service in the forces of both Portugal and Canada in the late 1930s. By the start of the Second World War, though, the Shark had been relegated to secondary units in the Fleet Air Arm, although the type did remain in frontline service with the RCAF.
Like other titles in the Orange Series, this book provides a very detailed history of the development and operations of the Blackburn Shark. In addition to those sections, the book also details the colors and markings worn by the Shark. As a Fleet Air Arm aircraft from the 1930s, this color information highlights just how attractive these biplanes were. Complementing this text are color profile illustrations, and a set of scale drawings further help show the shape and design of the Shark. Finally, the photographic content is simply amazing, with a great blend of manufacturing, development, and operational imagery.
For anyone interested in FAA aircraft of the 1930s, this is a great book to have. The only downside is that once you read up on this plane, you'll want to build a model of one, and there are very few options for this plane out there in the scale world. My thanks to MMP Books & Stratus for the review copy.