Internet Modeler : New Releases : Book Reviews
RSS News Feed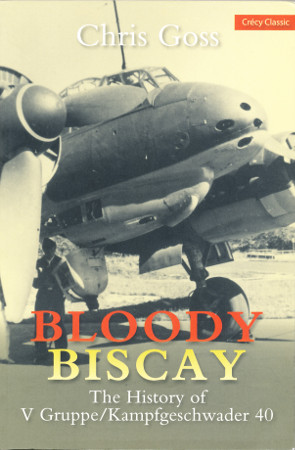 Bloody Biscay: The History of V Gruppe / Kampfgeschwader 40, and Its Adversaries 1942-1944
Author: Chris Goss
Publisher: Crécy Publishing Ltd.
ISBN: 0947554629 & 9780947554620
Binding: Softbound
Pages: 278
This is a well researched and easy to read book covering the combat actions of KG 40, the Luftwaffe's sole long-range maritime fighter unit and V Gruppe, the only long range fighter group within that unit, in one of World War II's lesser-known conflict regions, the Bay of Biscay. Biscay, the vast gulf area along the western coast of France and northern coast of Spain, has some of the Atlantic Ocean's harshest weather conditions.
Written primarily from a Luftwaffe perspective, the book describes in great detail the tactics and unique mission performed by V Gruppe / KG 40 to protect German submarines arriving and departing their bases in western France from Allied attack. The book chronologically follows these actions, which were extremely successful until early 1944, when the Allies began ramping their operations up in advance of the D-day landings. From that point onward the tide shifted decisively. It contains comprehensive appendices detailing all of KG 40's known combat kills matched with official Allied losses. Also covered in detail and from a German perspective is the 1942 aerial interception in which famous British actor Leslie Howard perished over the bay.
The introduction of newer, more lethal Allied aircraft as well as their increasing numbers dramatically accelerated losses of highly trained, combat experienced German crews. That combined with a lack of equivalent level replacements resulted in the groups' decimation and eventual disbandment. Though ultimately futile, the Luftwaffe's ongoing operations against RAF, Royal Navy and USN aircraft are comprehensively documented through the use of official records backed by written first hand personal accounts from the actual participants of the fighting. The book also includes numerous photographs, most from German sources and never before published. The author does a fine job describing the general situation(s) at hand and the strategic context in which each of these narratives is presented. For aircraft modelers, the types and variants involved in each engagement are described in detail here and in several cases combat actions are accompanied by photographs taken by crew members during the actual incident!
Overall, Bloody Biscay is an engaging and insightful read providing a new perspective on the experiences of German long-range maritime fighter units in a conflict region that had not received a great deal of prior coverage. Bloody Biscay is highly recommended to anyone interested in Second World War aviation combat history and Luftwaffe operations. I would like to thank Crécy Publishing Ltd. for the review sample.