Internet Modeler : New Releases : Book Reviews
RSS News Feed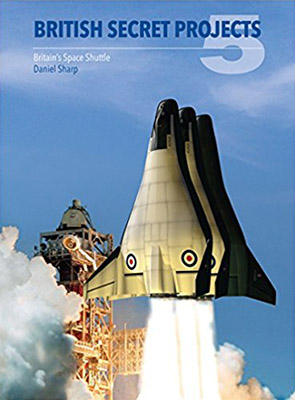 British Secret Projects 5: Britain's Space Shuttle
Author: Dan Sharp
Publisher: Crecy Publishing
ISBN: 978-1-91080-902-0
Binding: Hardcover
Pages: 264
Much is talked about the American and Russian space program, but many other countries have delved into space exploration as well. In the 1960s, Britain looked into building high-speed aircraft and reusable spacecraft, a plan that resulted in some impressive designs that pushed the envelope of what was then available. This latest book by Dan Sharp, published by Crecy Publishing, opens the archives on this interesting venture and presents a thorough history on what might have been had Britain continued to explore the possibility of space travel.
The book covers two main subjects, the P.42 Project and the MUSTARD Project. The P.42 Project examined a wide range of designs that embraced different concepts at getting vehicles into orbit, including huge delta-winged launch platforms, manned rocket boosters, and small spaceplanes reminiscent of the US lifting bodies that were starting to appear around the same time. MUSTARD stood for Multi-Unit Space Transport And Recovery Device and was, in essence, a space shuttle that came about years before the US or Russia started on their space shuttle designs. The MUSTARD Project was set up in a very similar way to how both the US Space Shuttle and Russian Buran were eventually created, with two boosters vertically launching the vehicle into orbit for its mission, then letting the vehicle glide back to earth.
Both of these projects had their naysayers, though, and those people ended up holding more sway in the Ministry of Aviation and the Royal Aircraft Establishment. The result was that these projects never made it out of the design phase, and what's more, they remained classified for decades, keeping these monumental achievements secret and hidden away. The author has managed to gain access to these projects, though, and through his meticulous research that included interviewing team members and poring over drawings and documents, we now know just how far Britain's advancement in high altitude aviation and space technology went, and what might have been. Throughout the book, complementing the engaging text, are lots of period drawings that show the evolution of design across both the P.42 and MUSTARD projects. Bringing some of those to life are the renderings and illustrations of various designs that show how they might have appeared.
This is another fascinating addition to the Secret Projects line by Crecy Publishing, one which covers some great what-if scenarios. My thanks to Specialty Press for the review copy.