Internet Modeler : New Releases : Book Reviews
RSS News Feed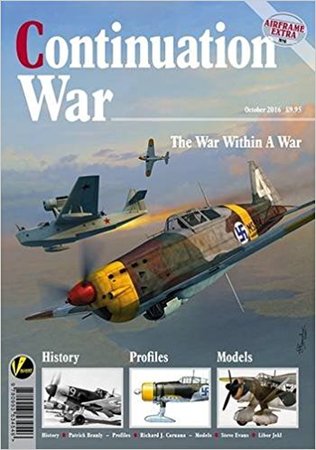 Continuation War: The War Within A War
Author: Richard A. Franks
Publisher: Valiant Wings Publishing
ISBN #: 978-0-9935345-4-6
Binding: Softcover
Pages: 82
The latest release in their Airframe Extra series from Valiant Wings Publishing is this, titled Continuation War. Basically, it's about the fight between Finland and The Soviet Union during World War 2.
The beginning of the book starts with a high-level account of the war, starting with Operation Bararossa and ending with Peace, or the end of World War 2. It doesn't go into a lot of depth, instead approaching the subject from a high-level and only rarely delving into anything deeper. In their other books, especially dealing with anything about the VVS (Soviet Air Force), I have complained about their sore lack of coverage. This one is no better but instead, this time around Valiant Wings offering an explanation. You would think there are sources available out there but I can understand that here, in "the west", these things are difficult to come by.
Be that as it may, the true strength of this book lies in its model section. Of the ones I have reviewed so far, Continuation War definitely has the most number of full builds. In total there are seven of them, the majority in 1/72 (which all but the Il-4 were masterfully built by Libor Jekl; and the Il-4 was awesomely built by Steve Evans, who also builds the non-1/72 kits):
1/72nd Hasegawa Brewster Model 239,
1/72nd Revell Hurricane Mk IIB,
1/72nd Azur Morane-Saulnier MS 410,
1/72nd ICM Polikarpov I-153, all by Libor Jekl
1/32nd Special Hobby Brewster Model B239,
1/48th Eduard/Gavia Westland Lysander,
1/72nd Zvezda Ilyushin Il-4, all by Steve A. Evans
My favorite is definitely Libor's I-153 build, using the ICM kit along with S.B.S. Model's resin and photoetch upgrade set. Don't get me wrong, all of the other builds are just as great, it's just the level Libor went to, and how it came out, that makes the I-153 my favorite.
So if you're looking for a decent high-level overview of the Continuation War and are interested in any of the kits this book covers then I think you should pick up this book. You will not regret it.
My thanks to Valiant Wings Publishing for sending the review copy.