Internet Modeler : New Releases : Book Reviews
RSS News Feed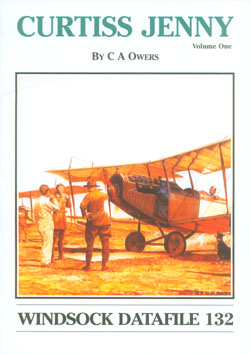 Curtiss Jenny Volume One
Windsock Datafile 132
| | |
| --- | --- |
| Author: Colin. A. Owers | ISBN: 1-902207-99-8 |
| Publisher: Albatros Productions, ©2008 | Binding: Softbound |
| Pages: 40 | |
The latest edition from Windsock Datafile, number 132, on the Curtiss Jenny, is an absolute must for both the model builder and the aviation historian and is certainly long overdue. Included in this first volume is not only a wealth of photos, both black & white and color, but also the now standard series of color profile illustrations and top quality drawings in both 1/72 and 1/48 scale. Again, and typical of the Windsock Datafile series is a commentary that chronicle the development and early usage of the venerable Curtiss Jenny.
Without a doubt, the Curtiss Jenny became synonymous with the early development of American military aircraft. This volume does an excellent job of describing the JN-4 development and production as well as some of the WWI usage. Included in this publication are a number of black and white photos, (both detailed exterior and interior views), as well as some color shots of surviving examples. Several colored profiles are also included and model build will be especially pleased with not only the above mention photos and profiles but also with the high quality multiple view drawings, in both 1/48 and 1/72 scale. If you are interested in the Curtiss Jenny, I highly recommend adding this to ones reference library.
My thanks to Albatros Productions for the review copy.