Internet Modeler : New Releases : Book Reviews
RSS News Feed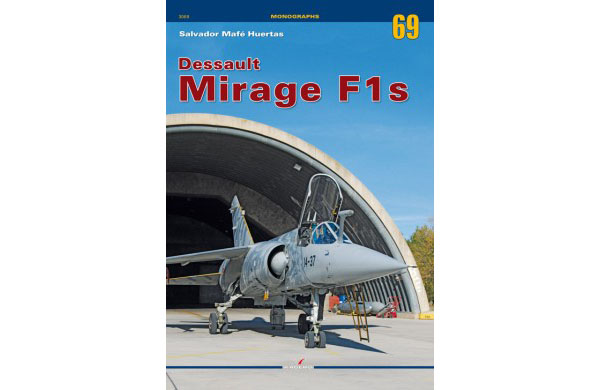 Dassault Mirage F1s
Author: Salvador Mafé Huertas
Publisher: Kagero
ISBN: 978-83-66148-81-9
Binding: Softcover
Pages: 94
Few jet aircraft are as beautiful as the Dassault Mirage family, with its sharply pointed nose and delta wing. There is a Mirage, though, that stepped out of that tradition and went back to the classic wing & tailplane arrangement. Even with that change, though, the Mirage F1 still kept the attractive lines alive, and some might even say it's a better looking Mirage as a result. The plane was a solid performer as well, and that resulted in the type moving into the air forces of several nations, the first of which was Spain. This latest book from Kagero looks at the Mirage F1 in Spanish service.
Spain took delivery of their first F1 in the mid-1970s, and quickly grew adopted the aircraft in short order. Spain was the second nation to operate the Mirage F1, after France, and to expedite that they formed the Ala 14 wing dedicated to the type. From the mid-70s to the mid-90s, the F1 saw a fair amount of attrition in Spanish service, so they augmented their dwindling numbers with fresh Mirage F1s from Qatar. With that fresh influx of aircraft, Spain was able continue operating the F1 until 2013, when they were finally retired and replaced by the Eurofighter Typhoon.
The book augments the written history of the Spanish Mirages with some excellent photographs, most of which are in color. The Mirage F1 wore several camouflage schemes throughout its life in the Spanish Air Force, and the photos do a good job of highlighting those schemes. Additionally, the plane wore a fair number of special schemes, including several tiger meet markings. All of these are likewise well documented in the photographs, making for an impressive photo collection.
This is another great title from Kagero, and anyone interested in the Spanish Air Force or the Mirage F1 (or both) would do well to pick this one up. My thanks to Casemate Publishing for the review copy.