Internet Modeler : New Releases : Book Reviews
RSS News Feed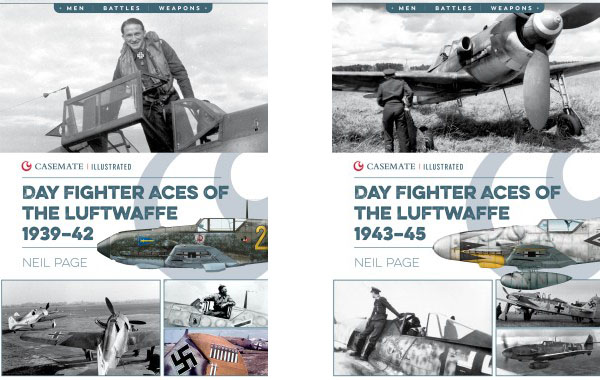 Day Fighter Aces of the Luftwaffe 1939-42 & Day Fighter Aces of the Luftwaffe 1943-45
Casemate Illustrated Series
Author: Neil Page
Publisher: Casemate Publishers
ISBN (1939-42): 978-1-61200-848-6

ISBN (1943-45): 978-1-61200-879-0

Binding: Softcover
Pages: 128 ea
There are few topics that have the popularity of Second World War Luftwaffe aircraft, with the lion's share of interest focused on the fighter force. The day fighter force of the Luftwaffe was one of the few that had combat-tested pilots at the beginning of the Second World War, having gained that experience during the Spanish Civil War. By the end of the war, though, attrition and overall exhaustion left the day fighter arm of the Luftwaffe a shadow of its former self. These two books in the Casemate Illustrated Series provide an overview of the day fighter aces of the Luftwaffe, with the subject split into the rise (1939-42) and fall (1943-45) of these aces.
The first book covers the early years, with those battle-trained pilots from the Spanish Civil War forming the backbone of the Luftwaffe during the beginnings of the Second World War. This covers their initial operations during the Blitzkrieg campaigns across continental Europe and the operations during the Battle of Britain. With the RAF holding the Luftwaffe off during the Battle of Britain, the next battle stages covered are the early campaigns against the Soviet Union and the North African & Mediterranean front.
The second book covers the constriction of fronts, with North Africa no longer in play, the Soviets advancing, and the Americans & British engaging in daily strategic bombing missions over Germany. The different operational environments between the Eastern and Western fronts made for challenges in how the pilots flew and fought, and attrition resulted in an increasing number of inexperienced pilots filling the ranks. Despite that, a handful of aces continued to hold their own against Allied forces right up to the end of the war.
The organization of both books follow the same template, starting with a general timeline overview (which is a very nice way to organize the structure), followed by a chronological history. This written history is quite well done and does a good job of telling the story of these Luftwaffe aces. Spread throughout this history are profile and anecdotal pages that include color illustrations, personal recollections, ace biographies, and specific battles. The illustrations and photos included in the books are nicely printed and provide a great level of support to the text. While most of these have been seen before, most of those previous publications are not readily accessible so these books make for a great introduction to a new audience.
For those looking for a great introduction to the aces of the Luftwaffe, this is a great set of books to pick up. The quality is top notch and the text will definitely make you want to delve deeper into this subject. My thanks to Casemate Publishers for the review copies.