Internet Modeler : New Releases : Book Reviews
RSS News Feed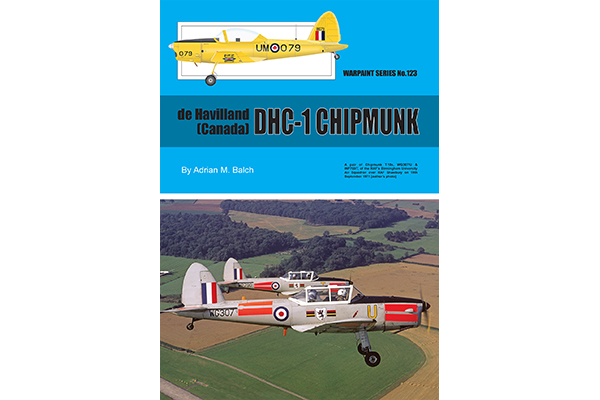 De Havilland DHC-1 Chimpunk
Warpaint Series No 123
Author: Adrian M. Balch
Publisher: Guideline Publications
Binding: Softcover
Pages: 44
The de Havilland Canada Chipmunk is one of the iconic post-war trainer aircraft, achieving almost as much fame as the aircraft it was designed to replace, the DH82 Tiger Moth. This title from Warpaint takes a detailed look at the Chipmunk, from its development through its extensive military history and on into civilian usage.
The story of the Chipmunk is straightforward, with no big surprises. Still, it's an interesting one, as the primary designer was a Polish engineer that had a hand in the PZL.11 design, and there were some production quirks. The overall structure of the Chipmunk was primarily metal, with the wing adding a fabric rear section and the rudder & elevators also fabric covered. In a nod to de Havilland's wartime aircraft, the vertical fin shares an almost identical layout to that of the Mosquito.
The initial production in Canada formed only a small portion of the over 1200 Chipmunks built, with most being license-built by de Havilland in England. It is with this license production that the quirks showed up, as differences in aluminum composition as well as availability of parts resulted in the British versions being subtly different than their Canadian counterparts. Different instruments, different wheels and brakes, and even the landing gear leg angle all resulted in an aircraft just slightly off from the original. Still, that didn't make the type any less popular, and the Chipmunk found its way into nearly two dozen air forces around the world.
In telling the story of the Chipmunk, this book has a fairly detailed text that covers both the development and operational history of the type. Complementing this in usual Warpaint fashion are several pages of color profile illustrations that really only scratch the surface of schemes worn by the Chipmunk. A set of scale drawings and lots of photos round out the title, with the latter including a fair number of civilian schemes. It is in this manner that one can still see the Chipmunk today, and a quick online search shows that it is not that difficult to find one for sale, should you wish to forego photo references and just buy the real thing.
This is a well rounded reference on the Chipmunk and one well worth having for anyone interested in long-lived post-war trainers. My thanks to Guideline Publications for the review copy.