Internet Modeler : New Releases : Book Reviews
RSS News Feed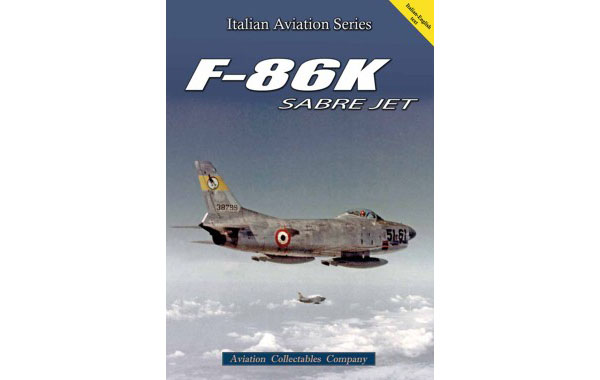 F-86K Sabre Jet
Italian Aviation Series
Author: Federico Anselmino
Publisher: Aviation Collectables Company
ISBN: 978-88-90523137
Binding: Softcover
Pages: 40
The conversion of the North American F-86 Sabre day fighter to an all-weather fighter resulted in the competent F-86D Sabre Dog. Integrating an advanced fire control radar to the F-86 airframe and connecting it with a rocket tray resulted in the most numerous Air Defense Command interceptors. The success of the Sabre Dog in USAF service had many other nations interested in the type, but the advanced nature of the F-86D led North American to come up with a modified solution. The result was the F-86K, which saw the replacement of the rocket pack with four 20mm cannons and a simplified intercept radar system. The F-86K was still a potent interceptor, though, and it found its way into the service of many European nations, including Germany, France, the Netherlands, Norway, and Italy. This book from Aviation Collectables Company covers the F-86K in Italian service.
The book begins with a high-level overview of the development of the F-86K, then jumps into the service history of the type in Italian service. The first F-86Ks showed up in Italy in 1955, and soon entered squadron service. The Italian Air Force fielded several units with the F-86K, and the type remained in front line service for nearly two decades, with the last of the type retiring in the early 1970s. The book describes the operational record by unit, starting with 1 Stormo and going through 36 Stormo and finishing with 5 Stormo.
In addition to the written history, each unit is well documented in photographs, including a fair number in color. The colors and markings of the Italian F-86Ks were fairly uniform, with the overall finish being natural metal and unit markings generally restricted to the tail. A series of color profiles help highlight these similarities and differences. Finally, the book finishes up with a short model build section that focuses on the Special Hobby 1/72 kit.
For those interested in the Sabre Dog, or Cold War Italian Air Force aircraft, this is a great book to have. My thanks to Casemate for the review copy.