Internet Modeler : New Releases : Book Reviews
RSS News Feed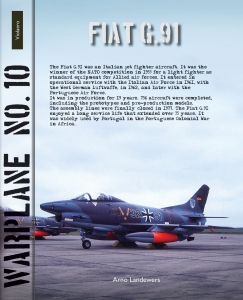 Fiat G.91
Author: Nico Braas
Publisher: Lanasta
ISBN #: 978-90-8616-170-6
Binding: Softcover
Pages: 56
While I knew of the aircraft I didn't know a lot of details about the Fiat G.91. It was an Italian jet fighter that won the NATO competition for a light fighter in 1953. It was considered standard equipment for Allied air forces serving first with the Italian Air Force in 1961 followed by the West German Luftwaffe in 1962. It later served with the Portuguese Air Force and was in production for 19 years. The type actually saw combat during the Portuguese Colonial War in Africa.
Number 10 in Lanasta's Warplane series, this book on the Fiat G.91 covers the type in an overview fashion and also provides some detail. For example, there are some photos and drawings of the typical cockpit layout.
Unlike some in the Warplane series this one actually provides what appears to be a table of all known G.91s and their final disposition. In addition it covers the type pretty well with plenty of period photos including a lot in color. Plus, the coverage of the Portuguese aircraft is also really done well.
If you're looking for a book on the Fiat G.91 then by all means pick up this title from Lanasta. You will not be disappointed.
Plenty of thanks are sent to Lanasta for the review copy.