Internet Modeler : New Releases : Book Reviews
RSS News Feed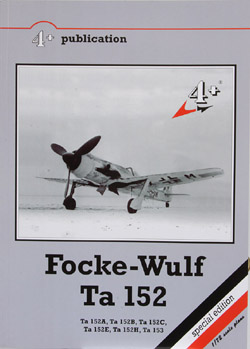 4 + Publications Focke-Wulf Ta 152
This brand new publication by Malcolm V. Lowe is destined to replaced the Monogram Close-Up 24 book published in 1990. Lowe's book is 56 pages of information with pictures on nearly every page. There are 5 pages of nicely detailed color photographs as well as 4 pages of color profiles. The color photographs are of the NASM TA152H-0 on display in the Smithsonian Aerospace Museum. The shots of the Jumo 213E-1 engine were taken at the Champlin Fighter Museum. There is a good selection of black and white photos of the TA 152A, B, C, H and E models of the aircraft. The profiles also illustrate the various models and there are two pages of operational JG 301 aircraft.
The drawings are in 1/72 scale and also cover all the variances of the TA152H.
There was only the one operational unit toward the end of the war and the book gives highlights of the unit. There is no accurate record known of the number of aircraft or personnel in the unit. There is a photograph and information on Josef Keil, the Oberfeldwebel who claimed to be an ace flying the TA152. There is no concrete evidence to support his claim, however.
The TA152 was designed as a high altitude fighter for combat with Allied bomber formations. There is no record of this kind of combat ever occurring during World War II.
I would highly recommend this book for any Luftwaffe aficionado; it is filled with all the information you could ever want about the TA152.
Many thanks to 4+ Publications for the review sample.