Internet Modeler : New Releases : Book Reviews
RSS News Feed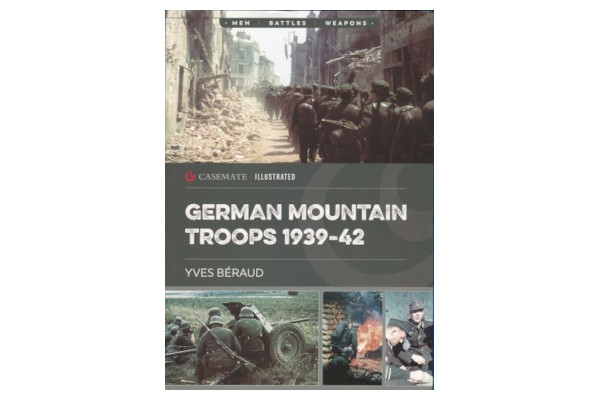 German Mountain Troops 1939-42
Author: Yves Béraud
Publisher: Casemate
ISBN: 978-1-61200-910-0
Cover: softcover
Pages: 128
The Gebirigstruppen were the German elite mountain troops of the Second World War, transported to all the "hot spots." During the First World War there were large numbers of troops fighting on the Vosges Front, the only area on the Western Front to see mountain combat. The Gebirigstruppen had their origins in the experiences from this earlier conflict. There were 15 mountain divisions and numerous small units by the end of World War Two.
Author Yves Béraud comes from a family with a history of service in mountain units and he has devoted years of research to this area of combat. This book traces the development of the German mountain troops from 1935 to 1939 and six chapters of this book cover their experiences fighting in Poland, Norway, France, the Balkans, Crete, the Eastern Front, and finally Norway and Finland during 1941-42. The book includes numerous Wartime photographs, a surprising number of which are in color.
I was especially interested to read a Profile on General Eduard Dietl (1890-1944) the first Wermacht soldier to be awarded the Oak Leaves of the Knight's Cross on July 19, 1940. There's also another interesting profile devoted to General Ludwig Kübler (1889-1947) who joined the Bavarian Army in 1908 and saw action in the Great War and was awarded the Iron Cross 1st and 2nd class.
I was completely unfamiliar with the Gebirigstruppen prior to receiving this book. I can recommend it to anyone who would like to learn more about less familiar aspects of armed conflict. I would like to thank Casemate Publishers for the review sample.
References
https://www.france.fr/en/vosges-massif/article/great-war-vosges-front