Internet Modeler : New Releases : Book Reviews
RSS News Feed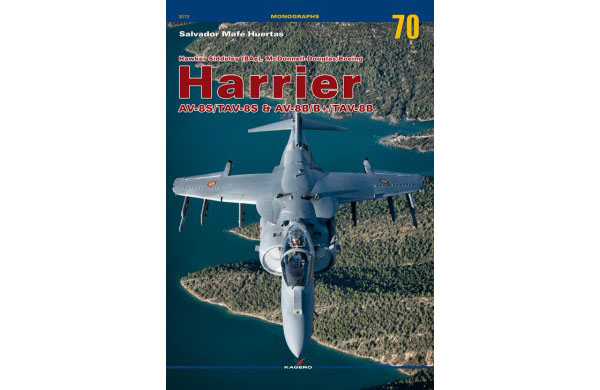 Hawker Siddeley/Boeing Harrier AV-8S/TAV-8S & AV-8B/B+/TAV-8B
Author: Salvador Mafé Huertas
Publisher: Kagero
ISBN: 978-83-66148-83-3
Binding: Softcover
Pages: 138
The Harrier is well known as a VTOL fighter for the US Marine Corps, the Royal Air Force, and the Fleet Air Arm, but it also operated with the Spanish Navy. This book from Kagero focuses just on the Spanish Navy Harriers, filling a gap in the historiography of this VTOL aircraft. The Spanish Navy first flew the AV-8S, which was an updated USMC AV-8A, before moving on to the AV-8B, keeping the Harrier in Spanish service for decades. To fully tell the story, though, the book begins with a short overview of the development of the Harrier and its challenging path to vertical flight. Following that is a detailed history on the selection and operational history of the AV-8S in Spanish Navy service, as well as the type's follow-on service in the Royal Thai Navy. The Royal Thai Navy operated both single seaters and two seaters from the Spanish Navy until 2006.
The second generation Harrier arrived in Spain in the late 1980s, with the updated AV-8B+ showing up in the mid-1990s. These were a big upgrade from the AV-8S Harriers, and the Spanish Navy began operations quickly. In the early 2000s, these Harriers went through an upgrade process that set them up for a long life with the Spanish Navy. In fact, while hinted at being replaced by the F-35, the Spanish Harriers will remain in service for several more years as Spain has not budgeted fully for the AV-8B replacement.
This book's text tells the story of the Spanish (and Thai) Harriers well, but the main content comes from the incredibly thorough photo coverage. Page after page of excellent color photography fill this book, and this is where the real value of this book shows up. The AV-8S gets a fair amount of coverage in its classic gray and white scheme in Spanish service and overall gray in Thai service, but the majority of the book covers the AV-8B/B+ variants. In addition to the aircraft, there are quite a few photos showing the different weapons the Spanish Harriers have carried over the years. Also covered are many of the special schemes worn by the Spanish Harriers, including the colorful sharkmouthed TAV-8S and some special scheme AV-8Bs.
If you're looking for some interesting history about the Harrier in Spanish service, this is a good book to have. The text is solid, but the photographic coverage take it to the next level. My thanks to Casemate for the review copy.