Internet Modeler : New Releases : Book Reviews
RSS News Feed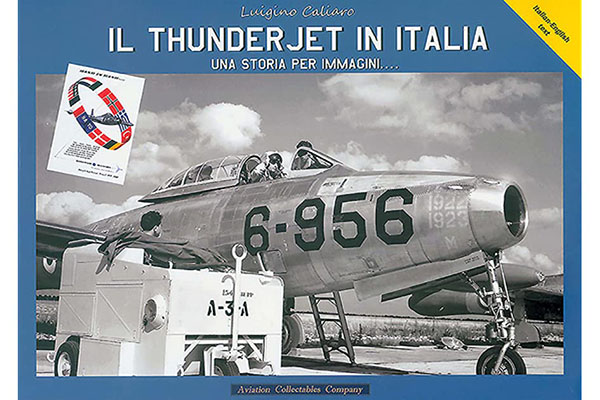 Il Thunderjet In Italia
Author: Luigino Caliaro
Publisher: Aviation Collectables Company
ISBN: 978-88-94105032
Binding: Softcover
Pages: 96
The Republic F-84 Thunderjet was one of the more successful early jet fighters. Its straight wing and strong construction, coupled with its stable flying characteristics, made it an ideal aircraft for air forces around the world making the move into jets. This book from Aviation Collectables Company covers one of those nations, Italy, and their operations with the F-84 Thunderjet.
The book begins with an overview of the development and initial US operations of the F-84. This includes some of the interesting tests done with the Thunderjet, such as the Tip Tow and FICON concepts that saw larger aircraft carrying F-84s to increase range and provide a built-in fighter escort. US military operations during the Korean War are also included, where the F-84 Thunderjet proved itself in combat.
With the background of the development and US operations covered, the rest of the book details the Italian operation of the Thunderjet. The book starts with the initial delivery of the type to Italy, and then it breaks down the operations by unit. This includes the 3rd Stormo, 5th Aerobrigata, 6th Aerobrigata, and 51st Aerobrigata. Also covered are the aerobatic teams Getti Tonanti and Tigri Bianche and the 56th ATAF shooting competition. Finally, the book finishes up with overviews on colors and insignia, some technical data, and modeler's notes.
Throughout the book there are loads of photos showing the F-84 Thunderjet in Italian service, nearly all of which are in black and white. There are a few color photos, though, and there are also some color profile illustrations that help show what these aircraft looked like in service. The technical section also includes detail photos of the cockpit and other bits and pieces of the Thunderjet.
For those interested in Italian fighters, this is a great book to pick up. From the useful text to the copious amount of period photographs, this is an excellent reference on the F-84 Thunderjet in Italian service. My thanks to Casemate Publishers for the review copy.