Internet Modeler : New Releases : Book Reviews
RSS News Feed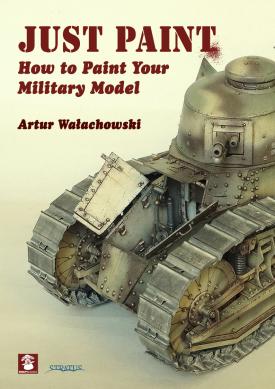 Just Paint: How to Paint Your Military Model
Author: Artur Walachowski
Publisher: MMP Books
ISBN: 978-83-65958-49-5
Binding: Softcover
Pages: 104
Painting & finishing models is where individual artistry shows up and is an area of scale modeling that everyone can learn something from other modelers. This latest book from MMP Books highlights that skill set, focusing on the work of the author Artur Walachowski. The author describes his methods and techniques as applied over ten different models, ranging from early 20th century tanks to modern day vehicles.
The author got his start with model finishing by reading Verlinden books and developed his skills from there. A nice bit of information is that he also indicates that it's a journey, that reaching a certain skill level takes both patience and practice, and that using new tools and paints can make the process easier. And above all, the biggest limiter to finishing models is fear, and the best way to get around that is through experimenting. Whether it's building a bunch of models quickly to practice on, or having a test-bed model to try multiple techniques out on, experimenting with new techniques will only improve your existing skills.
As noted, this book covers ten different model subjects as the author describes his techniques. In addition to the subject matter, the models vary in scale as well, ranging from the big 1/16 to the small 1/100. The models covered include the Takom 1/16 Renault FT-17, Airfix 1/48 Bedford MWD, IBG Models 1/35 Scammell Pioneer, Tasca 1/35 M32B1 Sherman Recovery Vehicle, Airfix 1/48 Supacat Coyote, IBG Models 1/35 Lancia 3Ro, Classy Hobby 1/16 Pz.Kpfw. II L Luchs, Zvezda 1/100 Sd.Kfz. 251, IBG Models 1/72 V3000s/V3000 SMM, and Zvezda 1/72 MSTA-S. With that range of diversity, there are lots of different techniques covered, from single-color to complex camouflages, heavily weathered to lightly weathered, and everything in between. Each subject is described both in text and photographs, and the latter do an excellent job of showing the process as well as the finished result.
For those looking to expand their painting skills, this is a useful book to have. My thanks to MMP Books for the review copy.