Internet Modeler : New Releases : Book Reviews
RSS News Feed
Last Hope of the Luftwaffe: Me 163, He 162, Me 262
Mini Topcolors 37
Authors: Jacek Pasieczny, Simon Schatz, and Arkadiusz Wrobel
Publisher: Kagero Productions
ISBN: 978-83-62878-71-0
Binding: Softcover
Pages: 18
Luftwaffe jets make for an interesting subject for aftermarket decal companies, and Kagero has jumped in with coverage of the Me 262, He 162, and Me 163 in this new Mini Topcolors title. For those not familiar with these booklets, the Mini Topcolors series are combination book and decal sets, containing detailed information and color illustrations of the subject matter.
This books starts out with its Messerschmitt Me 163 coverage, with three different schemes included. These are Me 163B V53, WNr 16310062, White 9, flown by Kurt Shiebeler of 1./JG 400 at Brandis in August 1944; Me 163B, White 10, flown by Hans-Ludwig Löscher of 1./JG 400 at Brandis in February 1945; and Me 163B V52, WNr 16310061, Yellow 1, flown by Reinhard Opitz of 7./JG 400 at Nordholz in April 1945. The camouflages are similar on the last two, consisting of RLM 81/82/76, while the first features a 74/75/76 scheme.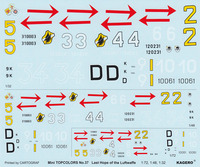 Next up are the Heinkel He 162s, with four options, all from 1./JG 1 at Leck, Germany in May 1945. These are all well-known He 162s, and include Yellow 5 (WNr 310003), White 4 (WNr 120067), White 3 (WNr 120028), and White 6 (WNr 120231). These all feature similar camouflages consisting of a fuselage finished in RLM 82 over 76 and an engine finished in RLM 81. For Yellow 5 and White 6, the vertical fins are RLM 76, while the other two have the fins painted in 81/82. White 6 also has its forward fuselage unpainted.
Finally, we get to the Me 262s. These are quite varied in both camouflage and units. The first is a Me 262A-2a, WNr 110613, 9K+DK, flown by Hermann Wiczorek of 2./KG 51, from Rheine-Hopsten in February 1945. This plane is finished in 81/82/76, with extensive mottling and squiggle painting in a dark green, possibly RLM 83. Next is Yellow 2, a Me 262A-1a from 3./KG(J) 54 at Prague in May 1945. This plane is a mishmash of camouflage, with the nose being a replacement part in one scheme and the rest of the plane featuring a unique camouflage pattern of 81/82/76 with RLM 02 and 83 added in as well. The final option is a Me 262A-1a, White 34, from III./EJG 2, from Brunnthal in May 1945. This plane also has a replacement nose and features fine squiggles on the rest of the fuselage. The wings are unpainted, adding to the uniqueness of this option.
The decals are nicely printed and provide the basic markings for all ten of these options in 1/72, 1/48, and 1/32 scales. Printed by Cartograf, these have excellent register and solid color. For the Messerschmitts, you get side and top views, while the He 162s are depicted in just side views.
If you've got a few German jets sitting in your closet (in any scale), this is a great little piece to pick up for inspiration. My thanks to Casemate Publishing for the review copy.