Internet Modeler : New Releases : Book Reviews
RSS News Feed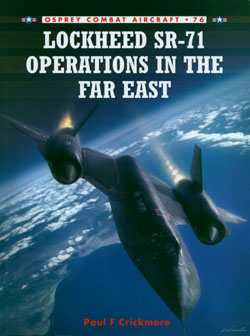 Lockheed SR-71 Operations in the Far East
Osprey Combat Aircraft 76
| | |
| --- | --- |
| Author: Paul F. Crickmore | ISBN: 978-1-84603-319-3 |
| Publisher: Osprey Publishing, ©2008 | Binding: Softcover |
| Pages: 96 | Price: $22.95 |
The newest title in the Osprey Combat Aircraft series covers a very famous aircraft, the Lockheed SR-71. While few are unfamiliar with this plane, its operational combat record has been largely untold. With this book we finally get a glimpse into just what it was like to fly the fastest operational aircraft in the world.
The SR-71 saw quite a bit of combat in the skies over North Vietnam, as well as over other areas of East Asia. This book begins with the Vietnam missions, which are fascinating to read. At the time the aircraft flew its first mission over North Vietnam, the countryside bristled with surface-to-air missiles, antiaircraft guns, and supersonic fighters. All of this meant nothing for the SR-71, though, which flew outside the intercept envelope for all of those. At least, it did when things worked right. In the skies over North Vietnam, though, things went wrong on a regular basis, and the stories of Blackbirds gliding down from 85,000 feet while trying to restart engines make for some tense reading.
Following the Vietnam War, the SR-71 continued to fly missions throughout East Asia, and even flew as far as the Horn of Africa. These missions covered various conflicts and incidents that are often relegated to the back page of history (such as the conflict between Somalia and Ethiopia in 1978, or the SS Mayaguez incident), as well as active operations against the main opponent in the Cold War, the Soviet Union. The missions against the USSR were more challenging, as they had the MiG-25, an aircraft that could potentially intercept the SR-71. However, by the time the plane was detected by ground radars and the interceptors launched, the MiG-25 could not reach altitude and perform an intercept fast enough to catch the SR-71.
In addition to the absolutely fascinating reading, this book is filled with many photos, including one taken from the rear-facing camera carried on some aircraft during missions. Some reconnaissance photos are also included, such as one showing a flight of B-52s flying far below the SR-71 as it performed its mission over North Vietnam. The color profile section has several aircraft depicted, as well as a montage of tail markings, generally the only spot of individuality on the Blackbirds.
This is an excellent addition to the Osprey line, and one that has broad appeal My thanks to Osprey Publishing for the review copy.