Internet Modeler : New Releases : Book Reviews
RSS News Feed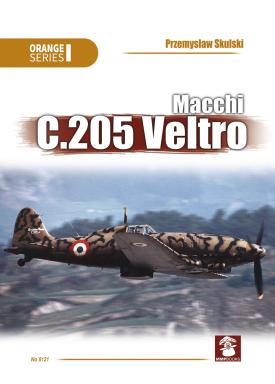 Macchi C.205 Veltro
Author: Przemyslaw Skulski
Publisher: MMP Books
ISBN: 978-83-65958-70-9
Binding: Softcover
Pages: 128
Italy produced some of the most attractive fighter aircraft of the Second World War, with Macchi, Fiat, and Reggiane all building some impressive planes. Towards the end of the war, these companies continued developing new types, whether completely new designs like the Fiat G.55, or modifications of existing aircraft, such as the subject of this book, the Macchi C.205V. As part of the MMP Orange Series, this book takes a detailed look at the development and operational history of the C.205V, as well as a technical description along with colors and markings.
Starting out with the development & technical description sections, these are probably the most interesting, at least to me, as they document the process of mating the German DB605 engine to the Macchi C.202, which was designed around the DB601 engine. While the engines were from the same manufacturer, there were both physical and performance differences that necessitated changes to the airframe and these changes are thoroughly discussed and illustrated.
The coverage on the operators is likewise well covered in both the chapter on users and the chapter on camouflage and markings. The C.205V is one of the few Italian aircraft that saw post-war service, operating in Egypt into the 1950s. The text provides a decent overview history of the C.205V in Italian service, which is an interesting story to tell as the C.205V served with the Regia Aeronautica before Italy split, the Regia Aeronautica and the ANR after Italy split in 1943, and also in Italian service post-war. Other operators covered include captured and foreign C.205Vs in Australian, German, Croatian, and Egyptian service.
Throughout the book there are copious photos showing the Macchi C.205V Veltro  in production, active service, and museum examples. This broad selection provides an excellent blend of period operation photos and up close detail photos, resulting in an excellent photo reference. Complementing the photos are the color profile illustrations which show the variety of schemes worn by the C.205V. With so many operators and aircraft switching hands, it's not surprise that there are a lot of color options, and these illustrations help highlight that.
For those interested in the late war developments of Macchi with their C.205, this is an excellent book to have. Like others in the Orange series, this book provides a great balance between history and colors & markings. My thanks to MMP Books for the review copy.