Internet Modeler : New Releases : Book Reviews
RSS News Feed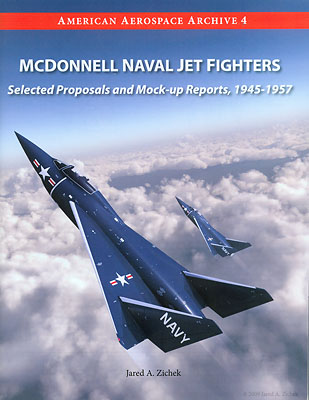 McDonnell Naval Jet Fighters
Selected Proposals and Mock-up Reports, 1945-1957
Author: Jared A. Zichek
Publisher: American Archive Press
Binding: Softcover
Pages: 60
The newest title in the growing American Archive Press series on American proposal aircraft could have been subtitled "From Banshee to Demon", as that is really what this book covers.  The successful F2H Banshee was one of the last straight-winged aircraft flown by the Navy, and the move to swept wing aircraft and supersonic flight was inevitable.  The methods and means with which McDonnell arrived at the Demon (and, by extension, the Phantom) are documented in this set of proposals, and as such makes for a very interesting glimpse into the minds of the engineers.
The book begins with the Model 40, which is a swept wing variation of the F2H Banshee.  With this aircraft one can already begin to see some of the characteristics of the Demon, such as the upswept rear fuselage.  The engines are still wing-mounted, though, and while the wings are swept, the wing root area is very definitely Banshee-like in appearance. The Model 40 underwent several iterations as the engineers experimented with different control surface arrangements and intake/exhaust locations.
Work on the Model 40 series led to the development of a direct swept-wing variant of the Banshee.  This kept as much of the fuselage identical as the straight-winged Banshee, with the addition of a new wing that closely resembles that of the F9F-8 Cougar.  These were identified as the XF2H-2/3/4 series, and were thought to be a logical follow-on to the Banshee just as the Cougar was a logical follow-on to the Panther.  However, none of these designs went any further than paper designs.
The next project for McDonnell was the Model 58, and it is with this project that we begin to see the direct lineage of the Demon.  The slim air intakes around the fuselage, sharply pointed nose, and the characteristic Demon tail are all apparent in this design.  The Model 60 was a modified version of the Model 58, replacing the standard wings with a delta wing.  Although impressive in appearance, it was ultimately the Model 58 that was selected, and McDonnell developed that into the Demon.
Like the other titles in this series, this book contains copious amounts of factory drawings and general arrangement sketches highlighting these various types.  A detailed text documents the evolution of design quite nicely, and all together makes for a fascinating read into 1950s aviation engineering.  My thanks to American Archive Press for the review copy.  For ordering information, visit www.jaredzichek.magcloud.com.