Internet Modeler : New Releases : Book Reviews
RSS News Feed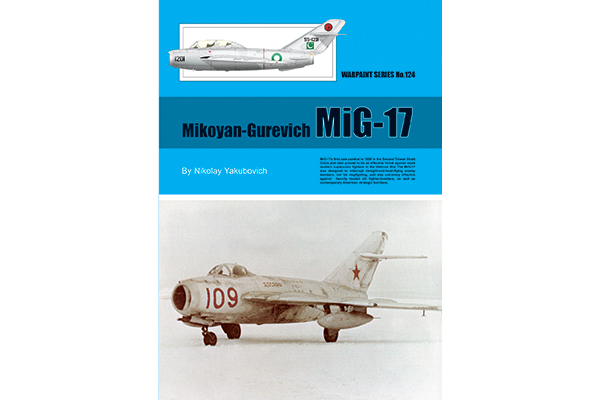 Mikoyan-Gurevich MiG-17
Warpaint Series No 124
Author: Nikolay Yakubovich
Publisher: Guideline Publications
Binding: Softcover
Pages: 64
The Mikoyan-Gurevich MiG-15 caught the Western world by surprise, proving it to be a capable fighter in the skies over Korea. Building on that experience, the Soviets refined the design, and the result was the MiG-17. Built during a time where jet aviation was advancing by leaps and bounds, the durability of the airframe coupled with its impressive firepower made the MiG-17 a capable fighter and an excellent fighter-bomber. This latest title in the Warpaint series takes a detailed look at the development and operational history of this famous MiG.
The book begins with a detailed description of the process of evolving from the knowledge gained with the MiG-15, with the primary focus being on engine development and airframe refinements. The aim was to have a supersonic fighter, which was challenging given the lack of area rule and straight-through intake design, and while the MiG-17 could conceivably achieve that in a dive, its sustained top speed was just under Mach 1. That didn't mean it wasn't an aircraft that could hold its own against the next generation of supersonic fighters, though, as its nimble handling quickly proved itself more than a match for Mach 2+ fighters during the Vietnam War.
The MiG-17, much like its predecessor the MiG-15, saw widespread international service, with around three dozen nations flying the type at some point. In fact, the MiG-17 might still be operational in the Air Force of Madagascar, proving its capability as a fighter aircraft even today. This widespread service means that the color profiles presented in this book are numerous and colorful, with nearly 40 different individual aircraft depicted (some in full four-view illustration). A set of detailed scale drawings also show the different variants, both Soviet-manufactured and those license-built in Poland and China.
If you're looking for a good introductory reference on the MiG-17, this is an excellent title to pick up. All the important historical bits are covered, and there is more than enough operational history to whet the appetite for more. Of course, with such a long and varied history, one could not expect this book to cover all the operational histories of the type, but overall, this is a well done book. My thanks to Guideline Publications for the review copy.