Internet Modeler : New Releases : Book Reviews
RSS News Feed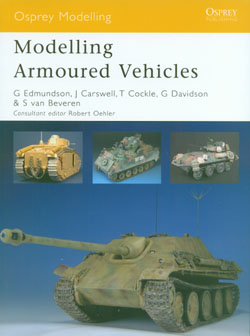 Modeling Armoured Vehicles
Osprey Modeling 43
| | |
| --- | --- |
| Author: G Edmundson et al | ISBN: 978-1-84603-287-5 |
| Publisher: Osprey Publishing, ©2008 | Binding: Softcover |
| Pages: 80 | Price: $19.95 |
The newest in the Osprey Modeling series combines five authors (Gary Edmundson, Jim Carswell, Tom Cockle, Grame Davidson, and Steve van Beveren) and five models to discuss various techniques of building armored vehicles. The subjects presented are all 1/35 models, but the techniques could be used in any scale (although I would have liked to have seen a chapter on how some of the finishing skills scale up or down, for those who build bigger or smaller models).
For all of the presented subjects, each one has a list of aftermarket items used, as well as the various decals and paints used, which is quite useful. The introduction presents each of the five models (Tamiya's Char B1 bis, Trumpeter's USMC LAV-25, Cromwell's Panzerbefehlswagen III Ausf. D, DML's Sd.Kfz. 171 Panther G Late Production, and Academy's M981 FIST-V) with a table covering the specific kit and product numbers, including the paints (for instance, the M981 uses Gunze and Tamiya acrylic paints, including XF-57 Buff from the Tamiya line and H48 Field Gray from the Gunze line). This will make following along very simple. Following this introduction is a good chapter on the importance of references and planning. This is useful for modeling in general, as the better your plan, the better your finished model.
Following these introductory sections, the remainder of the book deals with the actual building of the model. Basic construction techniques are covered first, and while many of these are common knowledge, sometimes it helps to go over them again just as a refresher. Following this initial primer comes advanced construction, which includes using aftermarket accessories and scratchbuilding. With field variations quickly changing the appearance of armored vehicles, knowing how to create items from scratch is an essential skill. The remaining two chapters cover painting & finishing and presentation, respectively. For those wanting to dive into dioramas for the first time, the chapter on presentation will make for an excellent starting point.
While aimed at armor modelers, the basic techniques presented in this book could be applied across all genres of modeling, and as such has value to every modeler. My thank to Osprey Publishing for the review copy.