Internet Modeler : New Releases : Book Reviews
RSS News Feed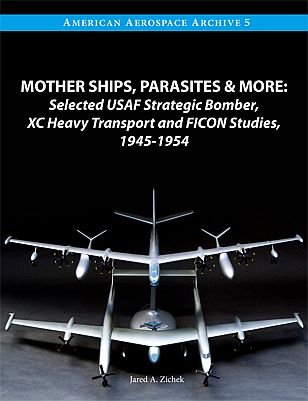 Motherships, Parasites & More
Editor: Jared Zichek
Publisher: American Aerospace Archive
Format 228 pages, PDF
I've heard that if you don't learn something new every day, then you have wasted your day.  When I read this book I learned tons, so I should be good for a few months.
I knew about the FICON studies with a B-36 parasite aircraft; I also knew about the XF-85 Goblin and how it was to be used with the B-36.  However, I did not know about all the studies that the book tells about.  Amazing.  There were a ton of studies made and most – if not all – have made it into the book. This book is broken down into three major sections: Bomber & Transport Studies; XC Heavy Transport and Parasite/Missile Carrier Studies; and FICON and other Parasite Aircraft Studies. Each section is further broken up by specific aircraft that fit that section.  For example, within the first section, the Douglas Model 1211-J Megapod/Snark Missile/Convair XF-92/Douglas XF4D-1 Carrier is outlined, including photos of a mock-up model.
In fact, a lot of these aircraft are supported with not only photographs of model mock-ups, but 3-view and/or blueprint drawings as well. Some of these drawings are so well detailed that scratch-building your own model from them is entirely possible.  I think some of these studies would look pretty cool in 1/144 scale.
Note that while we received the book as a PDF to review, it's also available in print format.  Just check American Aerospace Archive's site for more information.
My thanks to American Aerospace Archive for sending the review copy.