Internet Modeler : New Releases : Book Reviews
RSS News Feed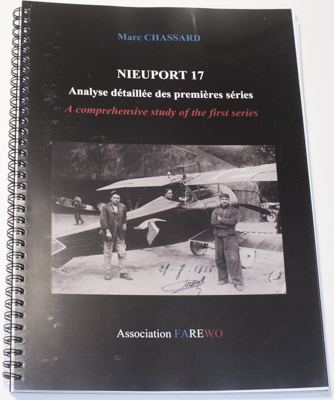 NIEUPORT 17: Analyse détaillée des premières séries (A comprehensive study of the first series)
Author: Marc Chassard
Publisher: Association FAREWO
Binding: Spiral Bound
Those that know me know that the Nieuport 17 is a favorite aircraft. I tend to acquire everything I can get my hands on of the type and when one of the WWI modeling community mentioned this book, I knew I had to have it. And I'm glad it was sent to me.
Even with my love of the type I did not know a few things this book brings up. I did not know there was an early series of the Nieuport 17 where one of the differences was the placement of the oil and gas tanks. I also did not know that it's currently thought the XVI and XVII (Nie.16 and Nie.17) were actually parallel developments of the XI Bébé. The development of the Nie.17 was not "linear", it did not go Nie.11, then Nie.16 followed by the Nie.17. Both the Nie.16 and Nie.17 were developed at the same time and it was only because the 16 was easier to develop that it was given priority over the 17 at the time of the Verdun battle.
Not only is this book an excellent history of the early-series Nie.17 but it's also a modeler's dream. There are plenty of period photos throughout the book along with a lot of color plates, many of both not seen before. So either as a WWI modeler or a student of the type, this book is a necessity.
Unfortunately it's a very small print run so email the author to acquire your copy. I definitely thank Marc Chassard for the opportunity to review this stunning work.