Internet Modeler : New Releases : Book Reviews
RSS News Feed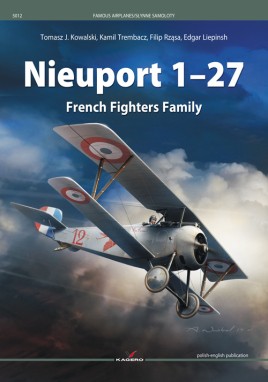 Nieuport 1-27 French Fighters Family
Authors: Tomasz J. Kowalski, Kamil Trembacz, Filip Rzasa, & Edgar Liepinsh
Publisher: Kagero
ISBN: 978-83-66148-61-1
Binding: Softcover
Pages: 88
When it comes to French World War One aircraft, few are as iconic as the Nieuport family of fighters. Innovative in many areas of aviation design over the years, the Nieuports showed up well during the First World War. The constant evolution of the sesquiplane design allowed it to hold its own against increasingly more potent adversaries. By the time the Nieuport 27 arrived, the design had reached its pinnacle, and was successful enough to continue on after the war in the service of several nations' fledgling air forces.
This book is split into two sections, with the first covering the history of the Nieuport 1-27 family. This history covers all the major marks through that family with a brief technical description and some operational history. This is by no means a complete history of the type, as a book for that would easily be ten times as long as this. What is provided, though, is very useful to understanding the thoughts behind the design and what it felt like to fly the plane.
Complementing this section are lots of period photos showing the Nieuport in its many interesting markings. While the vast majority of these Nieuports were finished the same, in overall aluminum dope, the markings worn by the individual pilots ranged from simple to extravagant. The photos help highlight that, as well as those that were camouflaged and some that were used in air forces other than France's.
The rest of the book is devoted to scale models of the Nieuport, specifically the new Copper State Models 1/32 Nieuport 17. There are two complete builds, one of an early Nieuport 17 that is camouflaged and one of a late Nieuport 17 that is overall silver. The step-by-step builds highlight the very high quality of these kits, as well as the skills of the modelers. The build text is accented by high quality color photos showing the assembly and finishing. For those interested in 1/32 WWI aviation, it looks like these kits will fall into that must-have category.
For anyone who already has an extensive library on Nieuport fighters, it is unlikely that there is anything new here, but for those getting into WWI aircraft, and more specifically 1/32 scale models of WWI aircraft, this is an excellent reference to have. My thanks to Casemate for the review copy.