Internet Modeler : New Releases : Book Reviews
RSS News Feed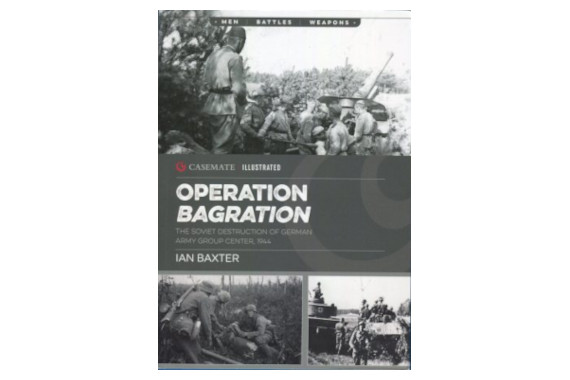 Operation Bagration: The Destruction of German Army Group Center,1944
Author: Ian Baxter
Publisher: Casemate
ISBN: 978-1-61200-923-0
Cover: softcover
Pages: 128
There are a number of well known World War Two battles: the Battle of Britain, the Battle of the Bulge, Midway, Monte Casino, etc. Operation Bagration, which resulted in the Soviet victory over German Army Group Center in 1944, is less well known than it certainly deserves to be.
The Soviet's summer offensive was the greatest defeat suffered by the German Army during World War Two: they lost over 300,000 men and most of their weaponry. 3 Axis armies were eliminated. The German 9th army alone sustained over 80,00 casualties. 2,000 tanks and 57,00 other vehicles were lost. One quarter of the Wehrmacht's Eastern Front fatalities were suffered by Army Group Center and Germany never recovered from the loss of men and matériel.
Operation Bagration was also one of the largest operations of the Second World War with over 2.3 million troops involved Author Ian Baxter, who specializes in German 20th century military history, details the fascinating story of this battle in an exciting new book from Casemate. 4 chapters are devoted to the battle itself and the book is full of high quality Wartime photographs and excellent color illustrations of combatants in full uniform from both sides of the conflict.
I knew the broad outlines of Operation Bagration before receiving this book and I can recommend it to anyone who would like to learn more about this critical battle in particular and about the history of armed conflict in general. I would like to thank Casemate Publishers for the review sample.