Internet Modeler : New Releases : Book Reviews
RSS News Feed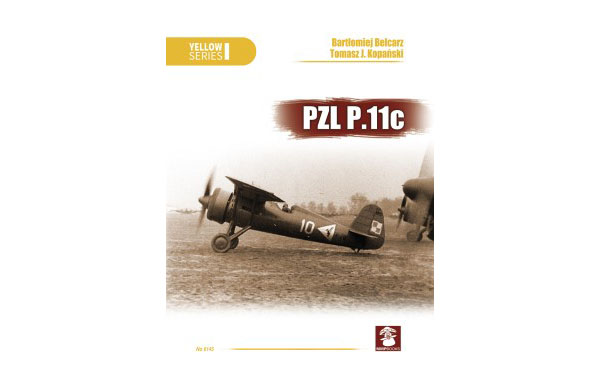 PZL P.11c
Authors: Bartlomiej Belcarz & Tomasz J. Kopanski
Publisher: MMP Books
ISBN: 978-83-66549-06-7
Binding: Softcover
Pages: 152
The evolution of fighter aircraft during the 1930s is a fascinating one, as different nations adopted different concepts as they moved from biplanes to monoplanes. Poland opted for the interesting combination of open cockpit and an inverted gull wing with the PZL P.11c, the subject of this book. Entering service in 1934, the P.11c was still in frontline service in Polish fighter squadrons at the opening of the Second World War in 1939 and the type managed to shoot down well over 100 aircraft before Poland was overrun.
This latest title in Mushroom Model Publications' Yellow Series details the PZL P.11c from its origins through its operational history and finishes up with a technical description and a discussion on camouflage and markings. A big part of the book is on the various units that operated the P.11c, including the Romanian aircraft, and these unit histories offer up some interesting reading. Additionally, the photo content for these chapters are truly great, as you get to see both peacetime and combat aircraft.
The technical description and detail photos, along with the scale drawings, help immensely to getting a good feel for the subtle curves and shapes found on the PZL P.11c. The inverted gull wing is an obvious shape that comes to mind when thinking of this plane, but the fuselage also has some interesting shapes to it that are not easy to see in period photographs. This book covers that by providing pictures of surviving aircraft in a full walkaround style.
Finally, the colors and markings are brought to life with a selection of color profile illustrations. These take up the last several pages of the book, and in a nice feature, many include period photos of the specific aircraft depicted. Both Polish and Romanian examples are illustrated, and include lots of individual and unit markings as well.
For anyone interested in the PZL P.11c, this book will provide more than enough information for the historian and modeler alike. My thanks to MMP Books for the review copy.