Internet Modeler : New Releases : Book Reviews
RSS News Feed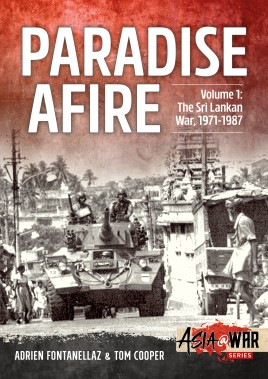 Paradise Afire: The Sri-Lankan War 1971-1987 Volume 1
Asia@War Series
Authors: Adrien Fontanellaz & Tom Cooper
Publisher: Helion & Company
ISBN: 978-1-912390-34-2
Binding: Softcover
Pages: 64
Post-WW2 conflicts were numerous, but often these smaller clashes were overshadowed by the bigger Cold War players. The publisher of this book has been working with some great authors to document some of these lesser-known events, breaking them up into different categories based on geographic regions. With great success in their Africa@War series, their focus has expanded to Asia@War. This book is in that new series and looks at the war in Sri Lanka.
Sri Lanka (at the time known as Ceylon) gained independence from Great Britain in 1948. Initially there was hope and plans to turn this large island off the coast of India into another version of Singapore, but despite economic potential and a fairly stable government, these plans did not achieve fruition. Between 1948 and 1971 there were several ethnic conflicts that hinted at underlying problems and these came to a head in 1971 with outright armed conflict. The war in Sri Lanka continued on for well over a dozen years, with only external forces from India providing a temporary stop in 1987. That was a temporary measure, though, and fighting resumed, continuing on for decades until 2009.
As one might expect, this book is very rich on text, as there is quite a bit of information required to understand why these conflicts broke out. As such, this book begins with some deep history, going back hundreds of years. Understanding the pre-colonial population and how Europeans dealt with those groups goes a long way to understanding the post-WW2 uprisings. The book then provides a bit of background on Sri Lankan armed forces before delving into the people and events of the war.
Throughout the book there are useful maps, illustrations, and charts that help simplify some of the information presented. Also of great value are the photographs, which are not as plentiful as one might hope, but do provide a visual touch to the people, places, and equipment used during this war. Color illustrations also highlight some of the Sri Lankan military vehicles, both aircraft and ground vehicles. Finally, a thorough bibliography and footnotes help provide additional references and resources should the reader wish to delve further into this subject.
This is undoubtedly the most thorough synopsis of the Sri Lankan War out there, and I look forward to Volume 2. For those interested in small armed forces, this is a great book to have. My thanks to Casemate for the review copy.