Internet Modeler : New Releases : Book Reviews
RSS News Feed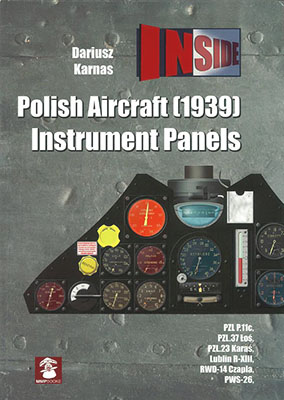 Polish Aircraft (1939) Instrument Panels
PZL 11.C, PZL.37 Los, PZL.23 Karas, Lublin R-XIII, RWD-14 Czapla, PWS-26
Author: Dariusz Karnas
Publisher: MMP Books
ISBN: 978-83-65281-40-1

Binding: Hardcover
Pages: 38
In the constant search for detailed references, a subject that is often near the top of the list are interior photos, especially for older aircraft. Finding good quality interior photos that show instrument panels is challenging, and knowing what colors all those instrument panel details are is even more so. When you through in the desire to find a reference on something that is outside of the mainstream, the difficulties become almost astronomical. This new book from Mushroom Model Publications aims to tackle that challenge for a handful of early war Polish aircraft types.
The book is small in page count, but packed with resources. Each aircraft (of which there are six) is presented with a short overview of the aircraft type, a photo showing what the plane looks like, and a photo showing the cockpit. There are a few additional photos of the interior at the end of each aircraft's section as well. Of course, given the period, the photos are in black and white, but turn the page and you're greeted with a full-page spread of the instrument panel in full color. These illustrations show the shape of the panel, the position of the instruments, and the colors of everything. On the next page is a diagram identifying what instrument is what.
As if that was not enough, the next content is the instruments themselves, again in full color illustration, but removed from the panel and reproduced even larger. Here you can see all the specific details, such as the shape of the dial indicators, the color variations in the hash marks, and the specific typeface utilized. Many of these instruments are common across all the aircraft depicted, but regardless of that, they're reproduced individually for each aircraft. A bit repetitive, but it also means you don't have to flip through pages looking for that one specific instrument.
This is a great way to depict a commonly searched for interior piece, and the amount of research that went into creating it is immense. The quality of the artwork is excellent, and this book will be of invaluable use to anyone building a model of an early Polish aircraft type. My thanks to MMP Books for the review copy.