Internet Modeler : New Releases : Book Reviews
RSS News Feed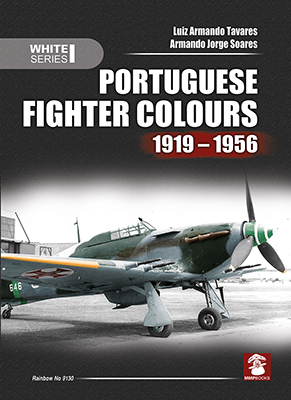 Portuguese Fighter Colours 1919-1956
Authors: Luiz Armando Tavares & Armando Jorge Soares
Publisher: MMP Books
ISBN: 978-83-63678-45-6

Binding: Hardcover
Pages: 232
One of the things that Mushroom Model Publications has done quite well over the years is documenting the colors and markings of lesser-known air forces. Their treatment of central and northern European nations' military subjects has opened up new avenues for researchers and modelers alike, and this title does the same for an Atlantic coast nation, Portugal. Portugal has had a long history with aviation, but it has not been at the forefront of research, most likely because they were operators rather than inventors when it came to aircraft. Because of that, Portugal ended up flying many common aircraft types from many different countries, and this book highlights those fighter aircraft through to the jet age.
The book begins with a short introduction to aviation in Portugal befor shifting to the early biplanes, starting with the SPAD S.7 C1 and Martinsyde F.4/F.4A Buzzard. These two aircraft made up the primary fighter force in Portugal following the First World War. In 1925, the French Morane-Saulnier MS.133, MS.230, and MS.233 parasol fighters arrived. Very minor differences separated those types, so they are all grouped together in this chapter. This aircraft was followed by a much more modern type, the Hawker Fury, which arrived in the mid-1930s and remained in service for years before being supplemented by the next aircraft, the Gloster Gladiator.
The Gladiator was the last biplane fighter for Portugal, and also saw a transition to aircraft from across the Atlantic with the arrival of the Curtiss Mohawk, Lockheed P-38 Lightning, and Bell P-39 Airacobra. All three of these aircraft saw extensive service in the Portuguese air force during the Second World War years, and were supplemented by British designs in the form of the Hawker Hurricane and Supermarine Spitfire. Also coming in from Britain was the Bristol Beaufighter, while the last piston-engined fighter from the United States was the Republic F-47 Thunderbolt.
For each aircraft type, there is a separate chapter that features an overview on the acquisition and operation of the type. This is complemented by lots of photos showing the various types as they operated over the years. As this is a book on colors and markings, the photos and descriptions are further backed up by color profile illustrations that bring the respective aircraft to life. In many cases there are individual or unit markings that add quite a bit of color to the camouflaged planes, and these are well documented in both illustration and photo form. Finally, the book finishes up with a short review of belligerent aircraft in Portugal, which is understandably minimal given its distance from the primary conflict.
This is a welcome addition to the small air forces library, and provides some great options for standard aircraft types. My thanks to MMP Books for the review copy.