Internet Modeler : New Releases : Book Reviews
RSS News Feed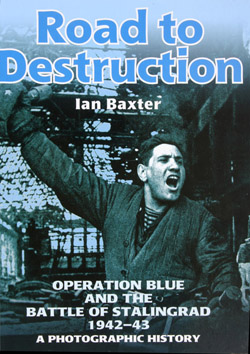 Road to Destruction: Operation Blue and the Battle of Stalingrad 1942-43
| | |
| --- | --- |
| Author: Ian Baxter | ISBN: 978-1-90603-315-6 |
| Publisher: Helion, ©2008 | Binding: Hardcover |
| Pages: 128 | Price: $59.95 |
Research into combat operations on the Eastern Front during the Second World War has greatly expanded over the last dozen years or so, mainly due to new information from former Soviet archives. With an increase in interest on the Eastern Front battles, collectors and researchers in Europe have also added to the information banks, with many new photographs coming to light. This book presents some of this new Western information by compiling a photographic history of the last months of the German 6th Army. Drawing on extensive collections from private collectors, this book illustrates the push towards Stalingrad in the early summer of 1942, followed by the fierce resistance of the Russians at the city.
The battle for Stalingrad was a major turning point in the war, and the stories and histories surrounding that pivotal event will likely never stop being told. This book fits into the greater historiography surrounding that battle quite nicely in that it is mainly a photographic record. That said, the captions for the photos are quite detailed and are thoroughly researched, presenting a very informative book. The photos themselves are of generally good quality, which is not always the case for combat photos. These are presented two to a page, so they are all good-sized, making this an excellent reference for both the historian and modeler alike. Subjects include soldiers, vehicles, and weapons in an even mix, with both combat and rest periods depicted.
This book offers a small glimpse into the struggles of the German soldier in Stalingrad, one that has not been seen before. The rarity of the photos alone makes this a worthy addition to a reference library, and the well researched captions and supporting text just further accentuates its value. My thanks to Casemate Publishing for the review copy.