Internet Modeler : New Releases : Book Reviews
RSS News Feed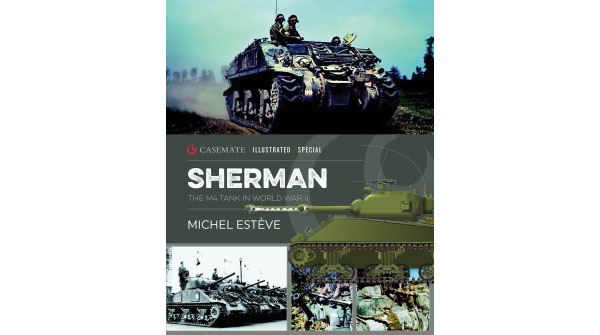 Sherman: The M4 Tank in World War II
Author: Michel Estéve
Publisher: Casemate Publishing
ISBN: 978-1-61200-739-7
Binding: Hardcover
Pages: 240
When one thinks of American tanks during World War Two, one rises to the top very quickly: the M4 Sherman. This latest book in Casemate's Illustrated Special series tackles this popular tank and does it in quite a nice manner. The Illustrated Special series combines a detailed text, period photographs, and graphic illustrations to tell as complete a story as possible about the M4 Sherman during WW2. It is not a detailed operational history, though, which would likely be a book three times the size, given its widespread usage.
The book begins with the origins and production of the Sherman tank, then breaks down the vehicle into the chassis, turrets, and armament. The Sherman lent itself well to modifications and upgrades for all of those, and these are well documented here and in the section on the evolution of the Sherman. These include unarmed versions such as recovery vehicles and bridgelayers.
In addition to describing all the variants (which are very numerous), the book takes a look at the various markings worn by the Sherman. This includes foundry markings for all the different companies taking part in the manufacturing of the Sherman, which is another interesting side story of this famous tank. The production of the Sherman was so intense that no single foundry could keep up with the demand. These markings really highlighted the diversified production of the M4. Other markings covered include shipment markings as well as operational markings for US, British, Canadian, French, Polish, and Soviet Shermans.
The visual content is truly impressive, from the period photos in both black & white and color, to the illustrations that show everything from components and parts to unit organization and operational markings. When combined with the written text, the result is a very nice history of the Sherman that is enjoyable to follow through, or skip to a specific interest point. For anyone looking for a solid Sherman tank reference, this is a great book to have. My thanks to Casemate Publishers for the review copy.