Internet Modeler : New Releases : Book Reviews
RSS News Feed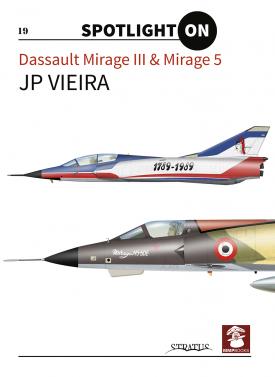 Spotlight On: Dassault Mirage III & Mirage 5
Author: JP Vieira
Publisher: MMP Books
ISBN: 978-83-65958-36-5
Binding: Hardcover
Pages: 42
MMP Books' Spotlight On series is a nice quick view of colors and markings of a specific aircraft. Each book presents color profiles of a plane, printed in a large size that fills an entire page, with a written description of the specific plane included below the illustration. This latest title turns the spotlight on the Dassault Mirage III/5, one of the more attractive and long-lived jet fighters out there.
The Mirage III/5 family, in addition to being a good looking plane, also served in the air forces of a great many countries, and wore an impressive variety of color schemes. This book highlights that, showcasing no less than 22 nations with few repeats in terms of camouflage. As the Mirage is a French design, the illustrations logically start out with a handful of Mirages in French liveries. These include the three main operational schemes as well as a couple of special schemes (a final French special scheme is presented last, for a total of six French Mirages).
After the French examples, the book then takes on the foreign operators and does so alphabetically. The countries covered include Argentina (four schemes), Australia (three schemes), Belgium (two schemes), Brazil (one scheme), Chile (two), Colombia (one), Ecuador (one), Egypt (two), Gabon (one), Israel (two), Lebanon (one), Libya (one), Pakistan (three), Peru (two), Saudi Arabia (one), Spain (one), South Africa (three), Switzerland (two), United Arab Emirates (one), Venezuela (one), and Zaire (one). In addition to the single seater fighter and attack variants, there are several two-seater Mirages illustrated throughout, and in addition to the French special schemes, there are some additional special schemes from other nations.
For a quick overview of the colors and markings of the Mirage, this is a pretty solid way to display Dassault's delta-winged fighter. While I would have liked to have seen a matching photo of each specific aircraft, I understand that's outside the scope of this series, and with a common type like the Mirage, it is not hard to find those photos anyway. For a source of inspiration, though, this book is hard to beat. My thanks to MMP Books for the review copy.