Internet Modeler : New Releases : Book Reviews
RSS News Feed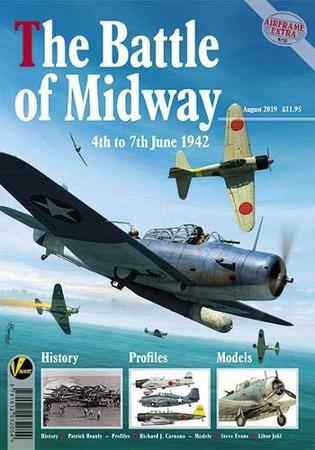 The Battle of Midway: 4th to 7th June 1942
Author: Patrick Branley
Publisher: Valiant Wings Publishing
ISBN #: 978-1-912932-05-4
Binding: Softcover
Pages: 74
If you have been reading my reviews of Valiant Wings Publishing Airframe Extra titles, you know I have found some of them "lacking", especially in terms of the beginning narrative and sometimes with the color profile subjects. However, this title definitely is one of the better ones they have released. The History section of the book does a decent job in concisely pointing out how the battle ensued, both in the air and on the sea.
In addition, the color profile selection is top notch, covering all of the air forces and aircraft that participated in the battle. It is that and the model section that draws most to the Airframe Extra series of books.
And finally! One of the modelers - Steve A. Evans - builds a 1/144 model, I think the first in a Valiant Wings title. And he did an excellent job on the superb Sweet 1/144 Zero. So, the builds that are featured are:
1/48 Academy (Accurate Miniatures) SB2U-3 Vindicator
1/72 Airfix B5N2 Kate
1/48 Italeri (Accurate Miniatures) TBF/TBM-1 Avenger
1/72 Hasegawa SBD-3 Dauntless
1/144 (!) Sweet A6M2b Zero
1/72 Airfix F4F-4 Wildcat
1/48 Hasegawa B5N2 Type 97
Overall this is a nicely done book and the models are, as usual, top notch. You can learn a thing or two reading any of the builds, regardless of scale you build.
First I definitely thank Valiant Wings Publishing for FINALLY including 1/144 in the mix. There are a lot of highly-detail models in that scale that the scale should be included more in their titles. And finally, of course I thank Valiant Wings Publishing for sending the title in to review.