Internet Modeler : New Releases : Book Reviews
RSS News Feed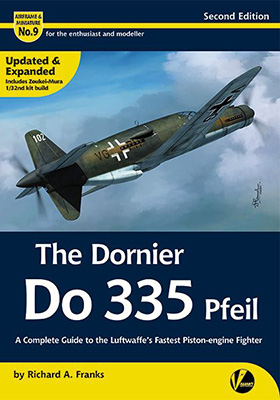 The Dornier Do 335 Pfeil
Airframe & Miniature No.9
Author: Richard A. Franks
Publisher: Valiant Wings
ISBN: 978-0-9957773-9-2

Binding: Softcover
Pages: 160
The modeling world never sleeps, and new kits come out constantly. Books like the Valiant Wings Airframe & Miniature series can quickly become out of date, but luckily for us, they have come out with second editions of several of their titles. Such is the case with this book on the Dornier Do 335. With a slew of new pages and updated kit information, this book continues to be the best single reference for building a Do 335 kit.
The book begins with a technical overview of the Do 335 and its variants. This is very useful as, while the plane did not operate for long, it did go through quite a few variations. Keeping all these types organized as this book does is a huge help for the modeler. This overview is separated into prototypes, production, and projects, with the latter showing what could have been had the war continued on.
Following the technical overview is the section on camouflage and markings. As the Do 335 did not enter widespread service, the operational colors of the plane were pretty similar from aircraft to aircraft. Variations really consisted of painted vs unpainted areas, and minimal marking changes. Some discussion and paint references are included, though, so there is still plenty of useful information here. Plus, the captured French example illustrated in the color profiles would make for an interesting variation.
As with other titles in the Airframe & Miniature series, this book begins the modeling section with a detailed listing of the available kits in all scales. After this it delves into the build articles, and this book includes full builds of the Revell/Dragon 1/72 Do 335A-1, Tamiya 1/48 Do 335A-12, HK Models 1/32 Do 335B-2, and Zoukei-Mura 1/32 Do 335A-12 kits. Following the builds is a section that shows each variant with callouts as to the visual differences between the types. Finally, a set of walkaround photos, a set of fold-out scale drawings, and a comprehensive aftermarket list rounds out the book.
This is a useful book for anyone wanting to build a Dornier Do 335 in any scale. The list of aftermarket accessories is nice to have for those wanting to do something a little different to their kit, while the builds help highlight potential pitfalls in their respective subjects. My thanks to Valiant Wings for the review copy.