Internet Modeler : New Releases : Book Reviews
RSS News Feed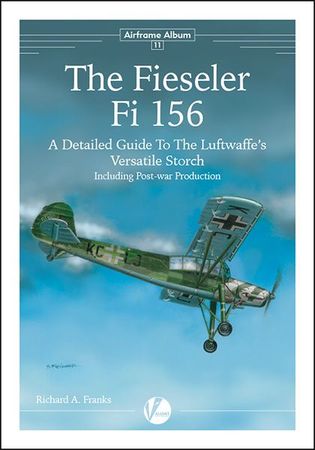 The Fieseler Fi 156 Airframe Album No. 11
Author: Richard A. Franks
Publisher: Valiant Wings Publishing
ISBN #: 978-0-9935345-6-0
Binding: Softcover
Pages: 130
The Fieseler Fi 156 was a German Short Take Off and Landing (STOL) aircraft that was developed before the start of World War 2. It had such excellent flying qualities that countries flew it well past WW2, into the 1950s, and it still can be seen flying today.
Another excellent book from Valiant Wings Publishing in their Airframe Album series covers the Fi 156 very well. In fact, if I was to recommend one title for the Fi 156 enthusiast or modeler it would be this title. Everything you could ever want to know on the Fi 156, especially the details of that aicraft, are covered within this book. In fact, there are plenty of color photographs of existing aircraft that will help with any model building.
The book is broken up into the following chapters:
Technical Description
Evolution - Prototype, Production and Projected Variants
Camouflage & Markings
Models
There are also the following Appendices:
Kit List
Accessory and Mask List
Decal List
Bibliography
The Airframe Album series now contains a built-model section and that is a definite redeeming quality. This time around you have the superlative Libor Jekl building two: a Smer (Heller) Fi 156C-3 and a Czech K-65 based on the Academy kit in 1/72 while Steve A. Evans provides excellent work on a 1/48 Tamiya Fi 156.
Huge thanks to Valiant Wings Publishing for sending this to review.