Internet Modeler : New Releases : Book Reviews
RSS News Feed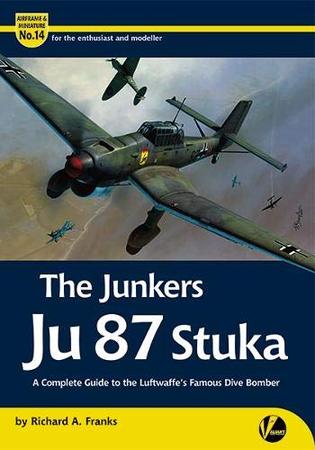 The Junkers Ju 87 Stuka A Complete Guide to the Luftwaffe's Dive Bomber
Author: Richard A Franks
Publisher: Valiant Wings Publishing
ISBN: 978-1-912932-06-1
Binding: Softcover
Pages: 240
The latest in the Aiframe & Miniature line from Valiant Wings Publishing is on the Ju-87 Stuka. Like all Valiant Wings books this is the be-all/end-all title on the subject matter, especially for modelers. It will also interest historians interested in the aircraft-type, but since the Airframe & Miniature titles are aimed more towards the modeler, if you want to build any Stuka model then you must pick this one up.
The book is broken out thusly:
Airframe Chapters
Evolution - Prototypes & Ju-87A Series
Evolution - Ju-87B & R Series
Evolution - Ju-87D & G Series
Evolution - Ju-87C, E, F, H and Ju 187
Camouflage & Markings and Colour Profiles
Miniature Chapters
Ju-87 Kits
Building a Selection
Building a Collection
In Detail
Appendices
Ju-87 Kits
Ju-87 Accessories & Masks
Ju-87 Decals
Bibliography
While the rest of the book is a treasure-trove of information, I always enjoy reading in detail the modeling section. Inevitably the modelers Valiant Wing Publishing has building models give great insight to the kits being reviewed, as well as providing excellent in-general modeling information. The only thing I think they could expand on would be to show a build in 1/144. The Eduard kit is very nicely done and I think would be worthy of treatment in this title.
This book is very highly recommended. My thanks to Valiant Wings Publishing for the book to review.