Internet Modeler : New Releases : Book Reviews
RSS News Feed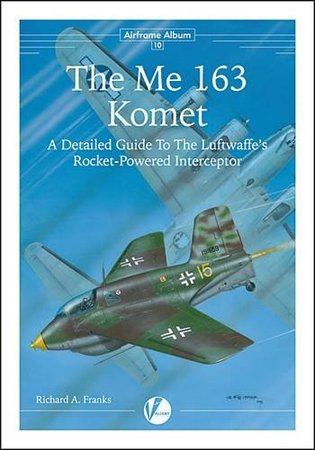 The Me 163 Komet Airframe Album No. 10
Author: Richard A. Franks
Publisher: Valiant Wings Publishing
ISBN #: 978-0-9935345-3-9
Binding: Softcover
Pages: 114
The Messershmitt Me 163 Komet was designed as a rocket-powered interceptor hoping to stem the tide of Allied bombers during the later part of World War 2.
Another excellent book from Valiant Wings Publishing in their Airframe Album series covers the Me 163 very well. In fact, if I was to recommend one title for the Me 163 enthusiast or modeler it would be this title. Everything you could ever want to know on the Me 163, especially the details of that aicraft, are covered within this book.
The book is broken up into the following chapters:
Technical Description
Evolution - Prototype, Production and Projected Variants
Camouflage & Markings
Models
There are also the following Appendices:
Kits
Accessories
Decals
Bibliography
It has only been with recent titles that books in the Airframe Album have contained a built-model section and that is a definite redeeming quality. The books were great before the addition and they're even greater now. This time around you have the superlative Libor Jekl building two: a DFS 194 (considered the Me 163 "prototype") and an Me 163A in 1/72 while Steve A. Evans provides excellent work on both a 1/48 and 1/32 Me 163B-1a.
Huge thanks to Valiant Wings Publishing for sending this to review.