Internet Modeler : New Releases : Book Reviews
RSS News Feed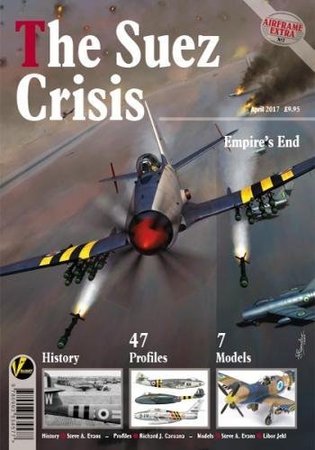 The Suez Crisis: Empire's End
Author: Steve A. Evans
Publisher: Valiant Wings Publishing
ISBN #: 978-0-9935345-7-7
Binding: Softcover
Pages: 74
This time for the Airframe Extra series, Valiant Wings Publishing concentrates on The Suez Crisis. The Suez Crisis was when Israel, along with France and the U.K., invaded Egypt to regain Western control of the Suez Canal. Eventually all three withdrew from Egypt but not before it ended Britain's role as one of the world's major powers.
This title concentrates on the air war and actually does a really good job. Sure, there are people out there that will quibble with some details but overall the title is really well written. In fact, this book is a solid reference on the Suez Crisis and a significant improvement in the Airframe Extra lineup.
However, as modelers we're more interested in what this title can do for us, and it doesn't disappoint. Not only are there numerous color profiles by Richard J. Caruana but there are also plenty of model builds by Libor Jekl and Steve A. Evans (whom also is the author of the book):
1/72 Egyptian Meteor F Mk 8
1/72 British FAA Sea Hawk Mk 6
1/72 Israeli Piper J-3 Cub
1/48 French RF-84F Thunderflash
1/72 Egyptian Il-28 Beagle
1/48 Israeli P-51D Mustang
1/48 Meteor RAF NF Mk 11/13
Naturally all models are finished to a very high level and if any of these subjects is a model you want to build, then the title is worth the price just for that. Even with that, though, the text is highly readable and a solid reference.
My thanks to Valiant Wings Publishing for sending this to review.