Internet Modeler : New Releases : Book Reviews
RSS News Feed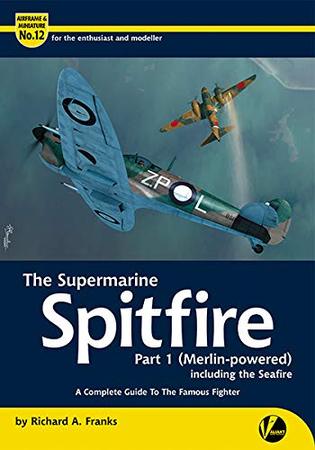 The Supermarine Spitfire – Part 1 (Merlin-powered) including the Seafire
Author: Richard A Franks
Publisher: Valiant Wings Publishing
ISBN: 978-0-9957773-5-4
Binding: Softcover
Pages: 240
Valiant Wings Airframe & Miniature books have become formulaic. Which is not a bad thing. In fact, it's because of their formula these books are such great bargains. If you're looking for references for your next modeling foray, and Valiant Wings has that specific subject you're modeling, then you're doing yourself a disservice if you do not pick up that book. It will contain everything you need to know about that subject.
The book is broken out thusly:
Airframe Chapters
Evolution - Mk I to V
Evolution - Mk VI to IX/XVI
Evolution - Photo-reconnaissance
Evolution - Seafire
Camouflage and Markings and Colour Profiles
Miniature Chapters
Spitfire (Merlin) Kits
Building a Selection
Building a Collection
In Detail
Appendices
Kit List
Accessory and Mask List
Decal List
Bibliography
For the modeler, this Valiant title is the be-all, end-all. While there are other books dedicated to history, squadrons and specific profiles, etc., the Airframe & Miniature titles helps the modeler in everything dealing with building their kit, but wrapped in one package.
I personally enjoyed the 1/72 modeling section by master-modeler Libor Jekl and seeing how he created the models he did. While the rest of the book is top-notch and first-rate, its seeing Libor's builds that make these titles truly outstanding for me.
One complaint with all Valiant titles is the lack of 1/144 coverage. Eduard has a superb 1/144 Spitfire Mk IX that builds very well and for them not to cover it in any detail I feel is a disservice. Sure, they mention the kit in the Kit List appendix, but it should truly have an analysis of the kit in Chapter 6.
Even so this book is still very highly recommended. My thanks to Valiant Wings Publishing for the review title.