Internet Modeler : New Releases : Book Reviews
RSS News Feed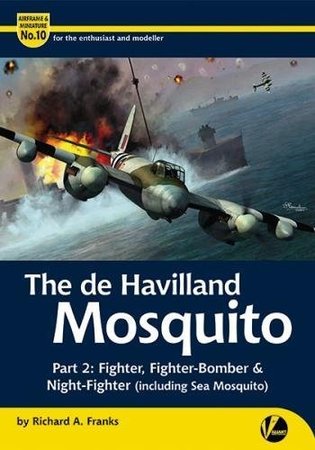 The de Havilland Mosquito Part 2: Fighter, Fighter-Bomber & Night-Fighter (including Sea Mosquito)
Author: Richard A Franks
Publisher: Valiant Wings Publishing
ISBN: 978-0-9935345-8-4
Binding: Softcover
Pages: 208
I've already written about Part 1 which covers the Bomber & Photo-Reconnaissance versions of the Mosquito. Valiant Wings continues their excellent coverage of the type by releasing Part 2, this time covering Fighter, Fighter-Bomber, Night-Fighter and the Sea Mosquito. Like all Valiant Wings books this is the be-all/end-all title on the subject matter, especially for modelers. It will also interest historians interested in the aircraft-type, but since the Airframe & Miniature titles are aimed more towards the modeler, if you want to build any of the Mosquitos outlined in this book then you must pick this one up.
The book is broken out thusly:
Airframe Chapters
Evolution - The Fighters (Including Night-Fighters)
Evolution - Fighter-Bombers and Photo-Reconnaissance
Evolution - Trainers, Target-Tugs and the Sea Mosquito
Camouflage and Markings
Miniature Chapters
Mosquito Fighter, Fighter-Bomber, Night-Fighter and Sea Mosquito Kits
Building a Selection
Building a Collection
In Detail
Appendices
Mosquito Kit List
Mosquito Accessory List
Mosquito Decal & Mask List
Bibliography
I always enjoy the 1/72 modeling section by master-modeler Libor Jekl and seeing how he created the models he did. While the rest of the book is top-notch and first-rate, its seeing Libor's builds that make these titles truly outstanding for me. My favorite would have to be his FB Mk.VI converted into a Czechoslovakian B-36. Stunning!
This book is very highly recommended. My thanks to Valiant Wings Publishing for the review title.