Internet Modeler : New Releases : Book Reviews
RSS News Feed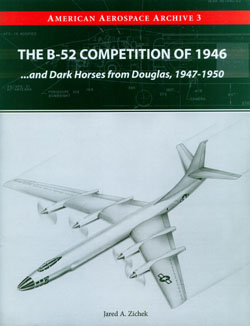 The B-52 Competition of 1946 …and Dark Horses from Douglas, 1947-1950
American Aerospace Archive 3
Author: Jared A. Zichek
Publisher: Jared Zichek
Binding: Softbound
Pages: 60
The newest title in the American Aerospace Archive series examines some of the fascinating design studies for the B-52 competition in 1946. The winner of that competition is well-known, as the Boeing-designed B-52 continues to fly in the strategic bomber role today. In fact, the first B-52H only recently was retired after forty-five years of service, and the Air Force will continue to maintain a fleet of over 70 B-52s for a long time to come.
This title examines the competitors to the successful Boeing design, covering proposals from Consolidated Vultee, Convair, and Douglas, as well as other early Boeing designs. This was an interesting time for bomber development, as jet power was still in its infancy and as a result, many of these designs show a combination of powerplant options, including piston engines, turboprops, jets, and combinations of all of the above.
As these were all proposals, the main content of the images consists of sketches and general arrangement drawings. A comparison of the drawings is quite helpful in showing the progression of engineering as changes in engine technology progressed. All of these aircraft were large (which is expected; the B-52 isn't exactly tiny), with some having spans exceeding 200 feet. Some of the drawings are quite detailed, while others are simple outlines. The text also helps describe some of the features of these aircraft.
This is an interesting glimpse into the development cycle of an Air Force contract, and examining some of the failed designs provides insight into the development of the B-52. At only $14.95, this is an affordable and interesting title to have. For US, UK, and Canadian orders, visit http://www.magcloud.com/. Outside of those countries, it is available from http://www.aeroarchivepress.com/.