Internet Modeler : New Releases : Book Reviews
RSS News Feed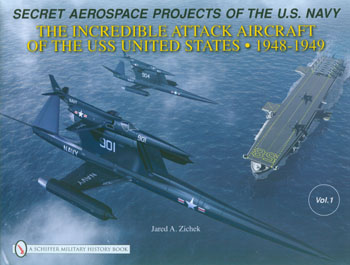 The Incredible Attack Aircraft of the USS United States 1948-1949
Secret Aerospace Projects of the U.S. Navy
Author: Jared A. Zichek
Publisher: Schiffer Publishing
ISBN: 978-0-7643-3229-6
Binding: Hardbound
Pages: 228
Price $59.99
Secret Aerospace projects of the U.S. Navy (The Incredible Attack Aircraft of the USS United States – 1948 -1949) is without a doubt one most interesting gee-wiz, and what if books I have read. The story behind the USS United States, the first post WWII aircraft carrier that almost was, and processor to what would become the super carrier class, is in itself a fascinating story. However, until now this reviewer was not aware of such proposed aircraft for this new breed of flattop.
Not surprisingly, a number of the proposals, which came from the well-known names of the aerospace industry, were somewhat conventional and familiar designs. Some had a close resemblance to what would become such production aircraft as the A3D Skywarrior while others resembled the delta winged F-102 and F-106 or even the F7-U Cutlass and the B-45 Tornado. However, other designs seemed more like they came from the pages of a Buck Rogers comic book, or perhaps Walt Disney Studios. The cover illustration is definitely my favorite. Imagine a disposable nuclear bomb-carrying drone the size of a B-47 that is dart shaped, with a "V" tail and jets in pods at the wingtips. Now imagine it controlled by a fighter, the X-3 Stiletto, mounted on the top of a massive pylon that contains and additional pair of vertically stacked jet engines and all painted the standard navy sea blue (wow).
Along with the narrative, the book's 228 pages are full of manufacturer's illustrations, engineering drawings and various photos of models, wind tunnel test, etc. All in all the range of proposed aircraft covered is too numerous to include is this review. However, if you are into esoteric themes related to the history of aviation I do not believe this book will disappoint. Even model builders might find it interesting in that a number of the drawings included look to be very usable for construction purposes.
My thanks to Schiffer Publishing Ltd. for the review copy.