Internet Modeler : New Releases : Book Reviews
RSS News Feed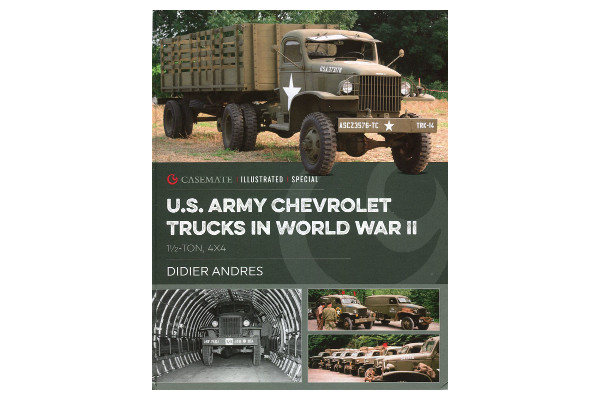 U.S. Army Chevrolet Trucks In World War II
Author: Didier Andres
Publisher: Casemate Publishers
ISBN: 978-61200-863-9
Binding: Hardcover
Pages: 160
The Chevrolet Motor Division of the General Motors Corporation delivered over 170,000 vehicles to the U.S. Army. 157,907 of these were 1½ ton 4x4 trucks. My knowledge of these vehicles was cursory at best before I received this interesting book from Casemate Publishers.
Author Didier Andres devotes 10 chapters of the book to the numerous 1½ ton variants that Chevrolet produced. The 4x4 performed a surprisingly large number of different duties-cargo trucks, panel vans, bomb service trucks, tractor-trailers, dump trucks, etc.
I found it interesting to learn that the truck was not popular with the Army. First, the vehicle required finesse to drive, especially when cold. Second, the truck was too small to compete with the 2½ ton 6x6s from Studebaker, International Harvester-or General Motors, for that matter.
The book is well illustrated with numerous technical photographs and illustrations and Wartime photographs. There are useful pictures of the trucks on the assembly line and lots of pictures of components and sub assemblies to aid the super detailers out there. Among these images is a really cool close-up of the auger assembly and winch of the Telephone Earth Borer K-44 truck.
The Chevrolet 1½ ton truck wasn't a universal success but it performed the tasks asked of it with distinction, and to the best of its abilities. This is a useful book for those of you who are fans of World War 2 support vehicles.
I recommend this book and I would like to thank Casemate Publishers for this review sample.