Internet Modeler : New Releases : Book Reviews
RSS News Feed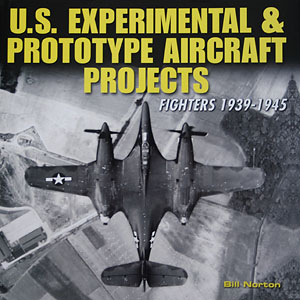 US Experimental & Prototype Aircraft Projects: Fighters 1939-1945
| | |
| --- | --- |
| Author: Bill Norton | ISBN: 978-1-58007-109-5 |
| Publisher: Specialty Press, ©2008 | Binding: Hardcover |
| Pages: 264 | Price: $44.95 |
This rather interesting book chronicles US experimental & prototype aircraft projects that took place during the time of WWII. Included are reviews of both US Army and Navy prototype and experimental aircraft projects starting with those of the late 1930s and continuing to beginning of the jet age. This book does an excellent job of telling many individual stories, including the development of front line fighters, heavy attack aircraft, night fighters, purely experimental, transitional piston jet combinations and pure jets.
As noted above, this book tells the story of the origins of a number of first line WWII production fighters including the Army's P-38, P-39, P-40, P-47, P-51 and the Navy's Wildcat, Hellcat and the Corsair just to mention a few. Other sections cover the dozens of Army and Navy experimental types, attack, night fighter and special duty aircraft as well as the development and early jets and jet piston combinations. Filled with black & white and some color photos and drawings, this book give a comprehensive view of one of the most active times in the history of US military aircraft development.
In conclusion, from a historical aspect I found this book very interesting. There is indeed a wealth of information in it and as such, I would definitely recommend this book to aircraft history buffs.
My thanks to Specialty Press for the review copy.