Internet Modeler : New Releases : Book Reviews
RSS News Feed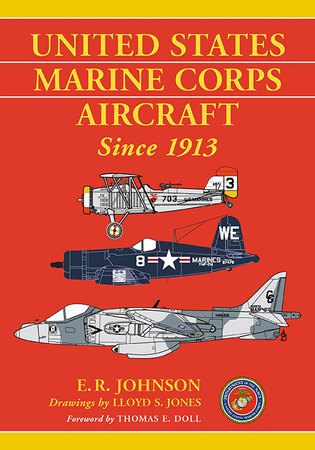 United States Marine Corps Aircraft Since 1913
Author: E.R. Johnson
Publisher: McFarland & Company, Inc. Publishers
ISBN: 978-1-4766-6347-0
Binding: Softcover
Pages: 380
ISBN: 978-1-4766-3065-6
Binding: E-Book
Pages: 390
Everything you ever wanted to know about U.S. Marine Corps aircraft is contained within this book. It contains the following Parts:
Part I: Fixed-Wing Tactical Aircraft
Part II: Fixed-Wing Transport, Trainer and Utility Aircraft
Part III: Rotary-Wing Aircraft
There are also eight Appendices:
Unmanned Air Systems
Aviation-Related Ships
Aviation Installations
Aircraft Squadrons and Aircraft Assignments
Aviation Unit Organization
Organization of Expeditionary and Amphibious Operations
Aircraft Weapons and Tactics
Aviation Designations, Terms and Abbreviations
Finally there is also a glossary, a bibliography and an index. However, there are no color plates, aside from the book's cover.
It appears that most every type that ever flew for the U.S. Marine Corps is covered. The book consists of each aircraft, a "scale" drawing (more on that in a bit) and photographs - if they exist - of the type.
I have one major complaint with the book and that is with the drawings provided. While all types have a drawing associated with it, those drawings unfortunately aren't "scaled". That is, there is no scale bar associated with a drawing so one can see how it can be scaled differently for your modeling scale of choice. It would have been nice to either have all drawings to a constant scale (for example, 1/144), or each drawing have a "scale bar" drawn with the design so we know how the drawing compares to the real thing.
Don't let my grievance stop you from purchasing this book, though. It reminds me a lot of the older Lloyd S. Jones books from the 1970s on all US aircraft (in fact, he contributes the drawings previously mentioned). However, it goes far beyond those older books. Each type is given very good text descriptions on the "wheres/whens/hows" each design flew, etc.
Overall it's an excellent overview of U.S. Marine Corps aircraft. By all means pick up this book if you have any interest what-so-ever in that aspect. Very highly recommended.
My thanks to McFarland & Company Inc., Publishers for supplying this e-book to review. And my apologies to them as well. I have had this for some time but between a whole number of life-changes and life-events, the email sat at the top of my inbox, "out of sight, out of mind". I am sorry it took so long to review. I ended up buying the physical book on my own.