Internet Modeler : New Releases : Book Reviews
RSS News Feed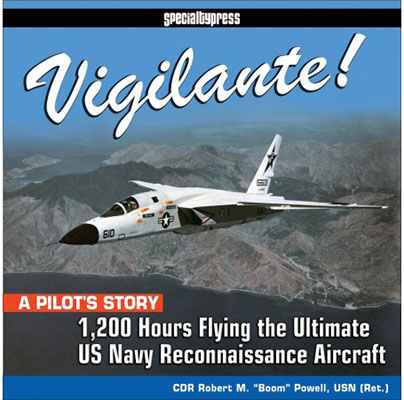 Vigilante! A Pilot's Story
Author: CDR Robert R. "Boom" Powell, USN (Ret.)
Publisher: Specialty Press
ISBN: 978-1-58007-261-8
Binding: Hardcover
Pages: 192
The North American A-5 Vigilante is an aircraft with a very interesting history. Originally designed as a Mach 2 nuclear bomber, the changing technology in air defense systems saw the type shift into the high-speed reconnaissance role. In that capacity, the Vigilante saw combat in Vietnam, where it provided valuable information in dangerous situations. Despite this varied and interesting history, there has been surprisingly little written on the Vigilante. This latest book from Specialty Press rectifies that omission, and does it with aplomb.
Telling the story of the Vigilante begins with the development of the A-5 and the nuclear mission. The book begins with the move of atomic bombs to US Navy carriers and the large aircraft needed to carry such heavy weapons. Initially that was done with large, slow propeller-driven aircraft like the AJ Savage and P2V Neptune, but it quickly became apparent that a jet bomber would be needed. The first jet bomber solution was the A3D Skywarrior, which could carry a heavy bombload with a decent range. The Skywarrior, however, was a subsonic aircraft and therefore susceptible to supersonic fighters and missiles. The answer, then, was the A3J Vigilante.
With the reasoning behind the Vigilante established, the book then delves into the development of the plane and some of its challenging features. The Vigilante had several innovative and unique features, such as a spoiler-based lateral control system, an advanced variable jet intake, and an innovative rear-facing bomb tunnel. The technical descriptions of these and other features are thoroughly documented, making this the most detailed development and construction history of the Vigilante.
With the plane built, the rest of the book is where the fun really begins. The author flew the RA-5C Vigilante in Vietnam, and drew upon his personal experiences as well as the official histories to weave a fascinating and highly informative narrative of what it was like to be in the Vigilante during combat missions. This section is broken down into several chapters based on key dates, beginning in 1967 and ending with Operation Linebacker in 1972-73. Finishing out the operational story is the final years of the Vigilante, ending with the final flight at the end of 1979.
In addition to the feature-rich text, the book is absolutely packed with photos of the Vigilante, ranging from production and prototype images to fleet service. The color photos highlight the variety of squadron liveries worn by the type, and include some of the special schemes worn during the US Bicentennial in 1976. There are also some photos of unique markings, such as the dark green camouflaged Vigilantes or the special markings worn by the Vigilantes during Operation Volcano.
Hands down, this is the book to have if you are at all interested in the Vigilante. My thanks to Specialty Press for the review copy. Visit their website for this and other books on aviation history.