Internet Modeler : New Releases : Book Reviews
RSS News Feed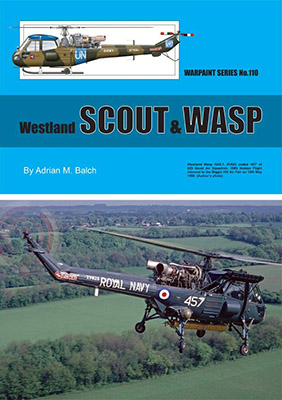 Westland Scout & Wasp
Warpaint Series No 110
Author: Adrian M Balch
Publisher: Guideline Publications
Binding: Softcover
Pages: 48
The 1950s saw enormous strides made in the advancement of helicopters around the world. As engines became more reliable and the control systems more stable, helicopters soon stepped into their full potential. France had their Alouette helicopter and the United States had their Huey, both highly successful designs, and Great Britain decided to try their hand as well. Bristol, Fairey, and Saunders Roe, all small helicopter manufacturers, stepped in with designs. Ultimately, it was the Saunders Roe design that evolved into the Scout, a solid five seater helicopter that quickly proved itself around the world. With adaptations to the core design, the Scout became the Wasp, a dedicated surface ship helicopter that became the naval standard until the Westland Lynx arrived.
This newest Warpaint title dives into this workhorse of a helicopter, documenting its origins, development, and operational history. With such a long operational history, both within Great Britain's military and in civilian and military use abroad, the use history is understandably high level. Still, the text does a great job of hitting all the important aspects of the Scout and Wasp operations around the world.
Complementing the well written text are the photos, of which there are plenty. Like the text, these photos also show the international flavor of the Scout, with different air forces around the globe choosing different schemes for the helicopter. As interesting, if not more so, is the evolution of camouflage in the Royal Army usage. The Scout era spanned a colorful era in camouflage concepts, and the photos show that progression from the early brown and green in the 1950s all the way through to the dark green and black of the 1980s. While not as varied, the photos of the Wasp also show what shipboard colors were, and while the Royal Navy did not vary much, some of the international schemes offered some variety.
Enhancing the photos are the color profile illustrations, which also show the colors and markings of the helicopter in addition to some of the more interesting details. The Scout/Wasp had quite a bit of its "innards" on the outside, including an exposed engine, and the illustrations highlight that nicely. Along those same lines, the scale drawings included in the book also show those intricacies. A series of detail photos at the end of the book round out the book.
Like others in the Warpaint series, this is a solid overview of the subject, presenting the Westland Scout and Wasp in an easy to digest manner. My thanks to Guideline Publications for the review copy.