Internet Modeler : New Releases : Tools
RSS News Feed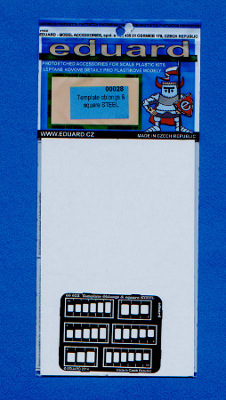 Eduard Template Oblongs & Square STEEL
This new set of scribing templates (item number 00028) is for "oblongs" or rectangles, if you will. It is a smaller set than 00029. There are 6 different rectangle sizes which are measured by width, ranging from 3.5 to 5 millimeters. Each rectangle has a minimum of 3 different sized rectangles for scribing. They are attached to a common fret but each template can be individually removed, which is useful if you need to scribe on a curved surface like an airplane fuselage.
This is a useful tool. If you rescribe the raised panel lines of an older kit or need to create new access hatches, etc. this tool will come in handy.
I recommend it and I would like to thank Eduard for providing the review sample.