F-RSIN 1/144 Comet Mk. I/IA Conversion
Overview
The de Havilland Comet was the world's first jet airliner, and as such went through quite a bit of teething pains. By the time the Comet 4 came along, most of those issues had been solved, and as such the Comet 4 became the most successful of the type. As it was the most successful, it stands to reason that it would also be the type that was kitted the most often, and the Airfix kit is a perfect example. For those who wanted to backdate it to an early Comet, though, there was a fair amount of work involved, with modifications in the fuselage, wings and stabilizers necessary.
The Conversion
To the rescue comes F-RSIN with a nice conversion set for the Airfix kit. This conversion comes with a set of replacement wings. These are designed to replace the kit parts entirely, and will add substantially to the weight of the finished model, as they are solid resin. The castings are decent, with scribed control surfaces. There are a few air bubbles and pinholes, but some primer and a bit of filling will take care of these quickly.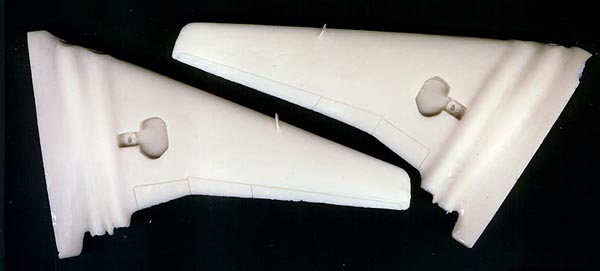 The rest of the conversion will involve chopping, mainly with the fuselage but also with the stabilizers. All of the cutting is carefully delineated in the instructions. The fuselage loses a total of 50mm, the majority of which is ahead of the wing. There is also some small detail changes, namely filling in all the oval windows and moving the rear door aft. The tailplanes are also shorter in span, a very simple conversion involving little more than some sandpaper.
This conversion set simplifies making a 1/144 Comet Mk. I and although there will be some extra work in dealing with the resin parts and the usual cleanup, it's still quicker than doing the whole conversion yourself. If you are into early jetliners, this is a conversion that you definitely should look at. The conversion is available by itself, or with any one of the three decal sheets reviewed here.
My thanks to F-RSIN for the review sample.